Woody Guthrie - This Land Was Made For You and Me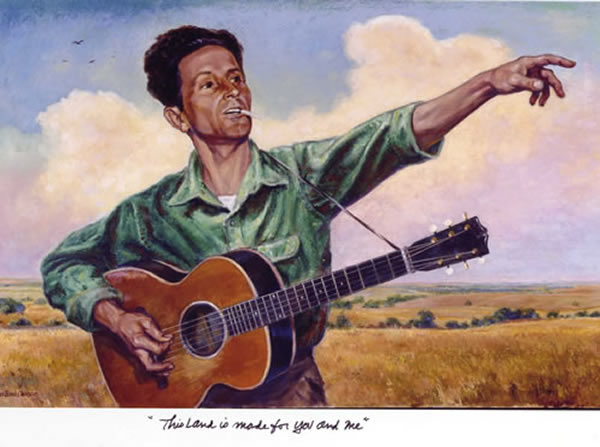 Artist: Charles Banks Wilson
Sponsor: Oklahoma Gazette
Dedication: July 15, 2004
Size: 20" x 28"
Type: Oil on Canvas
Location: 4th floor, Rotundra
Singer, songwriter, author and social activist, Woody Guthrie was exposed to music and politics at an early age. He would combine the two in his career to become America's first true folk hero. Guthrie wrote hundreds of songs, including such classics as This Land is Your Land; So Long, It's Been Good to Know You; and Oklahoma Hills, the official Oklahoma State Folksong. The colorful life he led became as legendary as the songs he wrote.
Born July 14, 1912 in Okemah, Oklahoma, his father was a real-estate broker and politician who fell on hard times and his mother suffered from Huntington's Disease, a genetic nerve disorder that led to her death. Guthrie learned how to play guitar, mandolin, fiddle and harmonica in his adolescence. He also read and wrote voraciously, drew cartoons and painted. During the Dust Bowl of the 1930's, Guthrie traveled and slept among migrants and hobos, accumulating the life experiences that fed his songs, stories and autobiography, Bound for Glory. Moving to New York in 1940, Guthrie continued to record music and perform on radio, but played at worker strikes and rallies. All the while, the self-taught folksinger studied politics, economics, science and religion. By mid-decade, Guthrie began experiencing bouts of depression and disorientation that signaled the onset of Huntington's. His health slowly deteriorated and he was eventually confined to hospitals.
When he died on October 3rd, 1967, Guthrie left behind eight children and about a thousand songs.
Images are copyright of The Oklahoma State Senate Historical Preservation Fund, Inc. and the artist. Please contact Matt Duehning at 405-524-0126 or Matt.Duehning@oksenate.gov for further copyright information.