Fayetteville, Arkansas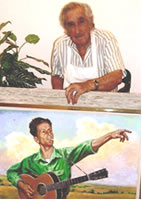 Charles Banks Wilson has spent much of his career painting documentary portraits of Oklahomans. Born in Arkansas in 1918 and raised in Miami, Oklahoma, Wilson was accepted at the Art Institute of Chicago in 1936 to study painting, watercolor, and lithography.
After serving an apprenticeship with illustrators at the Chicago Tribune, Wilson came to the attention of Thomas Hart Benton (1899-1975). Through Benton's recommendation, Wilson went to New York City to provide a print for a folio being prepared by the American Art Association. From that start, Wilson began his career as a book illustrator.
Wilson returned to Oklahoma during World War II and began teaching classes at Northeastern A&M College, where he established the art department and served as its head for fifteen years. Since 1960, Wilson has painted full time, gaining recognition for his oil paintings such as the images of famous Oklahomans in the State Capitol.