Whitetail Deer in Choctaw Country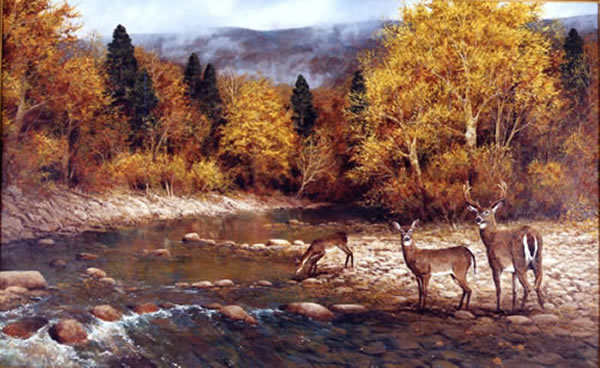 Artist: Ross Myers
Sponsor: Rob McCune
Dedication: 2003
Size: 5' x 8'
Type: Oil on Canvas
Location: South staircase, 5th floor, Senate wing
The Whitetail Deer is named for its most distinctive feature, the large white tail or "flat" that is often all you see as the animal bounds away through tall grass. Whitetail Deer are Oklahoma's most abundant big game animal and are legal game in all 77 counties. Oklahoma's deer herd has come a long way since the early 1900's when as few as 500 whitetails roamed the state. Oklahoma wildlife officials began to change that trend in 1944 when they initiated a deer relocation program. Today, the herd stands strong at 475,000 deer and record statewide deer harvests are becoming almost an annual occurence.
Choctaw Country was created by the Indian Removal Act of 830, which set aside over 6 million acres in the southeast part of the Indian Territory for the Choctaw Indians. In the early 1830's, over 14,000 Choctaws moved to the area.
This region is now referred to as Kiamichi Country and is truly a sports enthusiast's paradise - from the hunting areas to the variety of magnificent lakes and streams.
Images are copyright of The Oklahoma State Senate Historical Preservation Fund, Inc. and the artist. Please contact Matt Duehning at 405-524-0126 or Matt.Duehning@oksenate.gov for further copyright information.