Tulsa, Oklahoma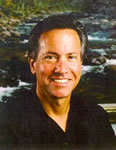 Ross Myers is in a life-long pursuit of art. Starting his professional career at age 15, he has demonstrated a natural talent in bringing life to a canvas. His paintings are a reflection of his personal experiences. With oil as his medium and landscapes as his subject, Ross delivers to his viewers a feeling of passion and inspiration.
Native to Oklahoma, Ross Myers graduated with a Bachelor of Fine Arts from the University of Tulsa in 1977. Having owned his own school for 25 years, he now continues to teach in the private sector at Ziegler's Art & Frame in Tulsa. Myers is best known for his expansive landscapes of the southwestern United States and his native Oklahoma.
Known nationally, Myers' paintings can be found in many private collections and corporate institutions. His work has been featured at galleries and museums in Colorado, Arizona, Texas and Oklahoma. Currently, his work is being shown at the Edmund Craig Gallery in Fort Worth, Texas, and at the Toh-Atin Gallery in Durango, Colorado. Ziegler's Gallery in Tulsa also shows a nice selection.
Ross Myers is an artist with vision. His passion for natural beauty is clearly evident in his expansive and painterly landscapes.