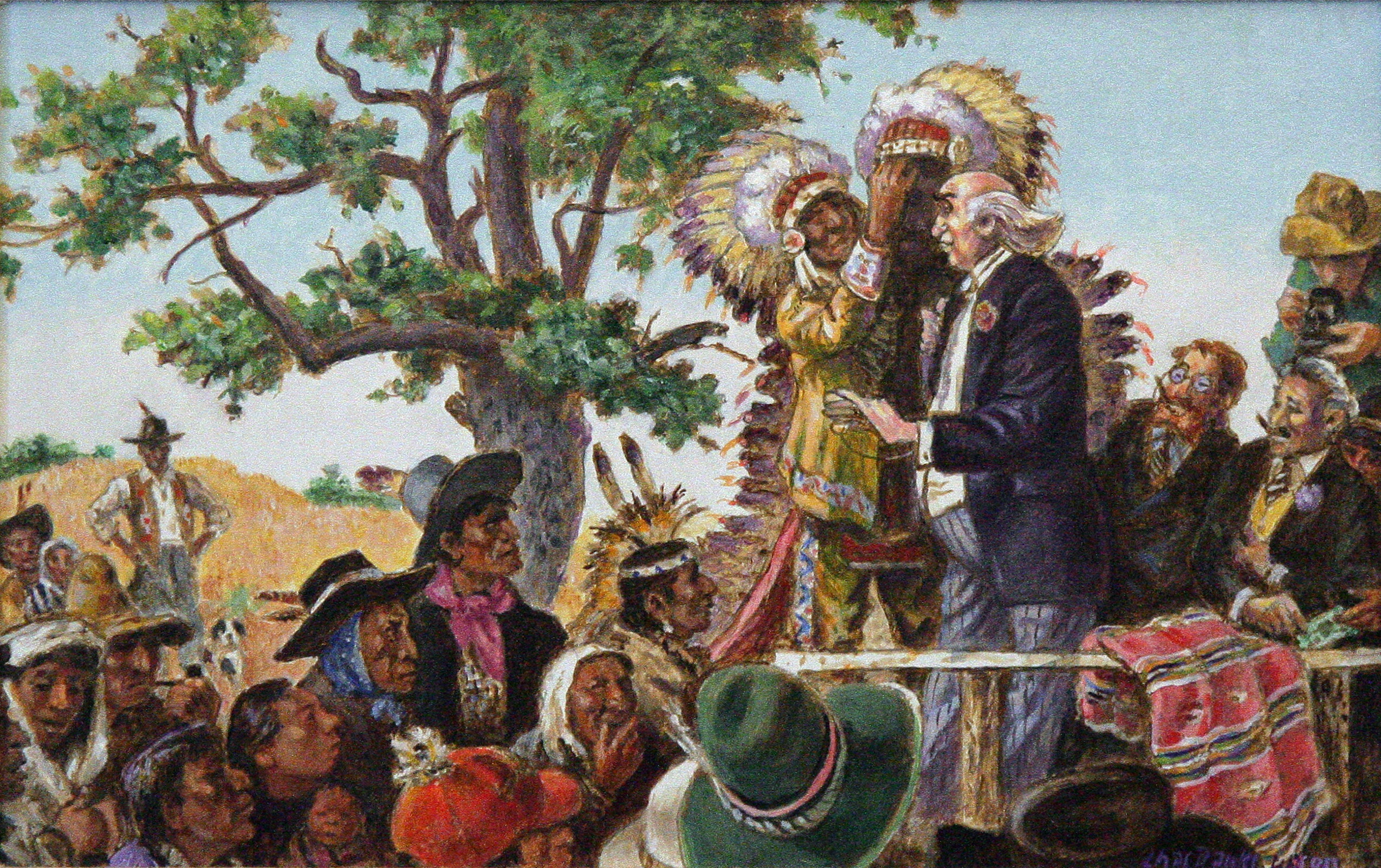 Artist: Charles Banks Wilson
Sponsor: Senator Senator Charles
Dedication: April 30, 2004
Size: 8" x 12 1/2"
Medium: Oil on Board
Location: 4th Floor Senate Lounge
Press: Media Announcements
Event Photos: Members and Friends
Early politicians usually always invited local Native Americans to attend their political rallies. It was considered a great honor for an Indian headdress to be placed on the individuals head.
Charles Banks Wilson, notable painter and printmaker, was born in Springdale, Arkansas, on August 6, 1918. Wilson grew up in Miami, Oklahoma. Showing promise in the arts at an early age, he attended the Art Institute of Chicago from 1936 to 1940. He married Edna McKibben of his hometown in 1941 and the happy couple moved to New York City. There, C.B. Wilson produced his first lithograph for Associated Artists of America. He also went about doing drawings for his first book, which he would illustrate many over the next twenty years.
In 1943, Wilson returned to Miami, Oklahoma, setting up a studio. In 1945, he began teaching night classes in drawing at Northeastern Oklahoma A&M College (now Northeastern State University) where he became head of the art department until 1960.
Charles Banks Wilson worked from 1963 to 1968 the Oklahoma state legislature. There he produced life-size portraits of Cherokee linguist Sequoyah, humorist Will Rogers, athlete Jim Thorpe, and Senator Robert S. Kerr for the Capitol Rotunda. In 1970-1976 the legislature commissioned a series of murals for the Capitol depicting events in Oklahoma history.
Images are copyright of The Oklahoma State Senate Historical Preservation Fund, Inc. and the artist. Please contact Matt Duehning at 405-524-0126 or Matt.Duehning@oksenate.gov for further copyright information.