Traffic Jam at Limestone Gap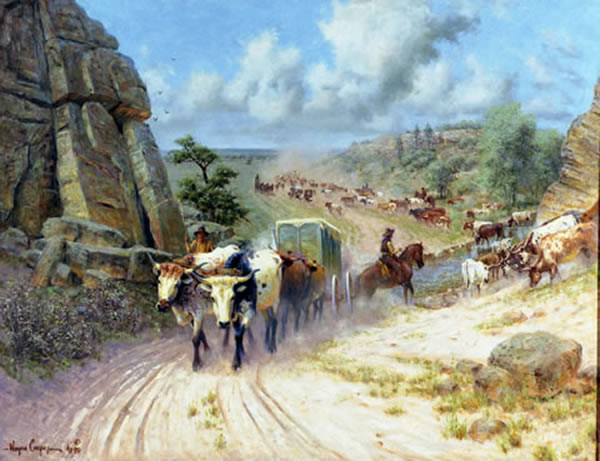 Artist: Wayne Cooper
Sponsor: Sen. Gene Stipe
Dedication: April 19, 1999
Size: 48" x 36"
Type: Oil on Canvas
Location: 4th Floor, Outside Senate Lounge
The Texas Road started about the year 1800 near Baxter Springs, Kansas, followed the Grand River and exited at Fort Smith, Arkansas, and was called the Osage Trace. As Texas began to develop, the road was extended to Dallas, Texas. It was the reason for the location of Fort Gibson and A. P. Chouteau's Trading Post.
More cattle and other goods were shipped on the Texas Road than all other trails and roads of Oklahoma. The MK&T railroad was built on this route in 1872 and is now the location of U.S. Highway 69, all of which go through Limestone gap which is in northern Atoka County. The Choctaw Indians built a bridge across Limestone Creek and charged a toll to pass, thus creating Oklahoma's first toll bridge. The painting depicts cattle going north to market and commercial wagons bringing goods south to Texas.
Images are copyright of The Oklahoma State Senate Historical Preservation Fund, Inc. and the artist. Please contact Matt Duehning at 405-524-0126 or Matt.Duehning@oksenate.gov for further copyright information.