Depew, Oklahoma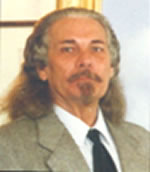 Wayne Cooper is an acknowledged national painter known for his portrayals of Western and Indian subjects. He comes from a background of Indian heritage and was raised on a small ranch gaining first hand knowledge of Oklahoma ranch life.
Cooper is listed in Artists USA, Who's Who in the Midwest, Who's Who in American Art, International Who's Who in Art and Antiques, Universal Directory of the Art and Personalities of the Americas, and others.
His works consist of oils, water colors, charcoals, pencil, sculpture (bronzes) and lithographs, and are contained in many private and public collections worldwide, including the halls of the Oklahoma State Senate and House of Representatives.