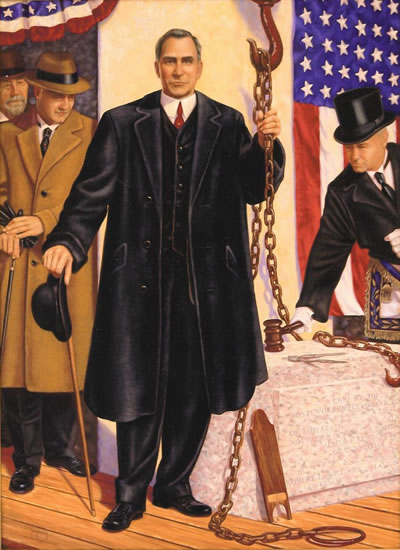 Artist: Christopher Nick
Sponsor: AIA Oklahoma (American Institute of Architects)
Dedication: April 10, 2007
Size: 28" x 62"
Type: Oil on Canvas
Location: 4th floor, South hall, Senate wing
Solomon Andrew Layton (1864-1943) designed more than 100 public, educational and commercial buildings in Oklahoma. He was the major designer of the territorial and early statehood days and is considered to be one of the most important and influential architects in Oklahoma's history.
Layton's most prominent work is the Oklahoma State Capitol. In a ceremony on statehood day, November 16, 1915, Layton was joined by local members of the Freemasons as they laid the cornerstone at the southwest corner of the State Capitol building.
Construction on the Capitol began in July 1914 and was finished on June 30, 1917.
Images are copyright of The Oklahoma State Senate Historical Preservation Fund, Inc. and the artist. Please contact Matt Duehning at 405-524-0126 or Matt.Duehning@oksenate.gov for further copyright information.