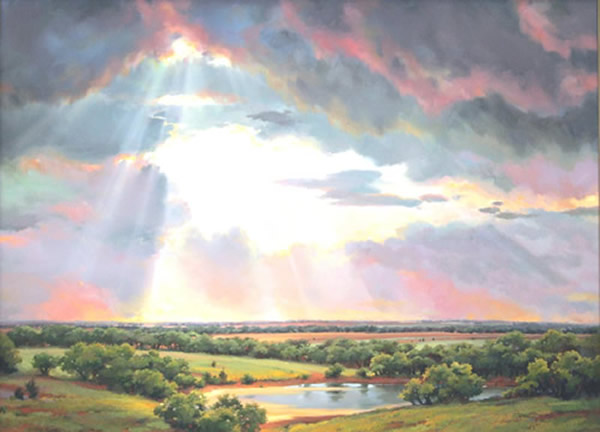 Artist: Linda Tuma Robertson
Sponsor: The Rob McCune Family
Dedication: May 23, 2006
Size: 5' x 7'
Type: Oil on Canvas
Location: 4th Floor, outside House Chamber lobby
Showers of Sunshine depicts a scene from the H.E. Bailey turnpike in Grady County, about one-quarter mile south of the tollbooth gate.
The H.E. Bailey Turnpike was authorized by the State Legislature in 1953. The original 86.4 miles opened in 1964, and the 8.2 mile extension connecting State Highway 9 to Norman was opened in 2001.
Images are copyright of The Oklahoma State Senate Historical Preservation Fund, Inc. and the artist. Please contact Matt Duehning at 405-524-0126 or Matt.Duehning@oksenate.gov for further copyright information.