S. W. Woodhouse at Lost City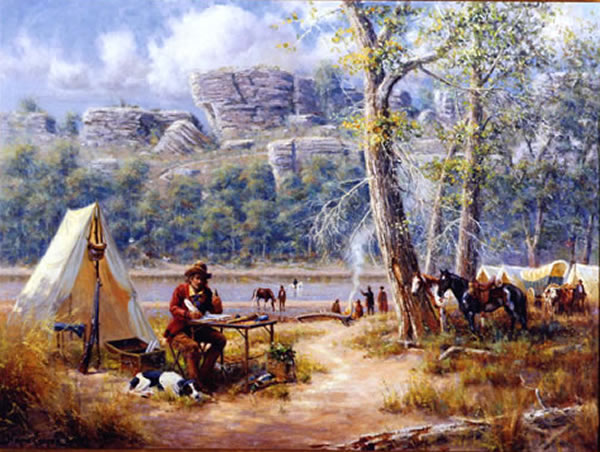 Artist: Wayne Cooper
Sponsor: Sen. Nancy Riley
Dedication: April 16, 2003
Size: 40" x 30"
Type: Oil on Canvas
Location: 5th Floor, North Senate Hallway
Samuel Washington Woodhouse, surgeon-naturalist, accompanied the 1849-50 Creek Indian boundary survey. His work in the Indian Territory was one of the first comprehensive natural history studies made of the area.
His contributions to Reports of the Survey of the Creek Indian Boundary Line were his first as a government naturalist. Details of the group's activities are found in Woodhouse's three journals that were faithfully kept day by day during the journey into Indian Territory. Many of his observations were the first scientific notations of the geology and wildlife of the territory.
On September 15, 1849, Woodhouse and his survey party camped on the Arkansas River west of Tallassee. His diary entry for the day contains a sketch of an outcropping and the following passage, "It presented a strange appearance, looking at a short distance like an old fortification and when you got near they looked as though they had been raised up out of the earth. They were of all sizes and were only on top of the hills."
The outcropping was the weathered limestone formation known historically as "Lost City," which reaches 50 feet in thickness on the south side of the Arkansas River, near present day Sand Springs, Oklahoma.
Images are copyright of The Oklahoma State Senate Historical Preservation Fund, Inc. and the artist. Please contact Matt Duehning at 405-524-0126 or Matt.Duehning@oksenate.gov for further copyright information.