Oklahoma City - April 29, 1889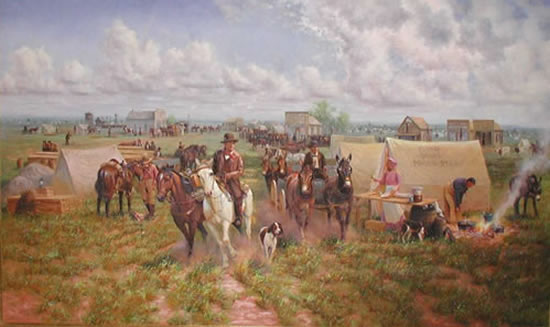 Artist: Wayne Cooper
Sponsor: G.T. & Libby Blankenship Family
Dedication: May 21, 2002
Size: 6' x 10'
Type: Oil on Canvas
Location: House Lobby
Roy P. Stewart's book on the history of Oklahoma City titled, "Born Grown," correctly documents Oklahoma City. This painting depicts Oklahoma City seven days after the Land Run of 1889. By midnight of April 22, only twelve hours after the start of the run at noon, more than 12,000 people had arrived at Oklahoma Station (Oklahoma City).
The settlers came from three directions - the North, the East, and the South, by railroad, horse, buggy and wagon, and by foot. Doctors, lawyers, surveyors and men of all trades and professions arrived that afternoon.
" . . . to appreciate Oklahoma City of this day it is necessary to go back three years. At that time Oklahoma Station consisted of a home for the railroad agent, and four other small buildings. The rest was prairie land with low curving hills covered with high grass and thick timber. This as far as the eye could see, and nothing else." Roy P. Stewart, Born Grown, an Oklahoma City History, Fidelity Bank, Oklahoma City, Oklahoma (1974).
Images are copyright of The Oklahoma State Senate Historical Preservation Fund, Inc. and the artist. Please contact Matt Duehning at 405-524-0126 or Matt.Duehning@oksenate.gov for further copyright information.