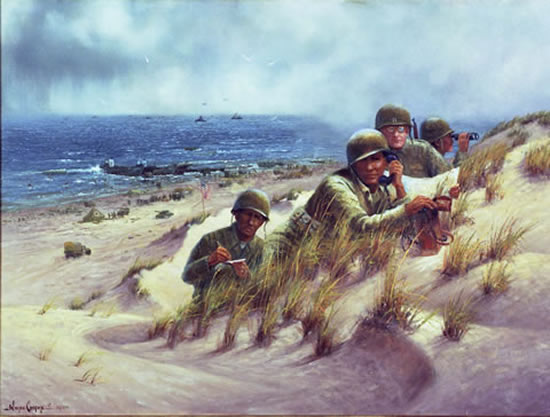 Artist: Wayne Cooper
Sponsor: Sen. Jim Dunlap/Phillips Petroleum
Dedication: May 16, 2000
Size: 48" x 36"
Type: Oil on Canvas
Location: Room 419-C
The story of the code talkers is one of the little-known heroic chapters of World War II. William Karty, a 30 year-old Comanche, was working as the director of the Fort Cobb Indian Conservation Corps when war broke out in Europe, and he realized that the Comanche language could provide an unbreakable code for the army. America had been slow to react when Hitler invaded France and occupied the country in May 1940. By August, the Battle of Britain had begun and the war in Europe was escalating. By the Spring of 1941, hundreds of Native Americans had volunteered for military service. Native Americans enlisted in far greater numbers proportionally than any other racial group in America. Among the earliest volunteers was a group of Comanche Indians from the Lawton area who were selected for special duty in the U.S. Army. An army officer found out about the initiative and was thrilled with the concept of Indian Code Talkers. The twenty were soon assigned to the U.S. Army Signal Corps (only seventeen went on to battle). Of these seventeen original code talkers, only Charles Chibitty is still living. Charles Chibitty was born near Medicine Park, near Lawton, and was a high school student at Haskell Indian School in Lawrence, Kansas, in 1940.
After landing on Normandy's Utah Beach during the D-Day invasion, Charles Chibitty and the code talkers saw some of the heaviest action of the war. Chibitty moved to Tulsa after the war ended in 1945. In 1989, the French consul honored the three surviving code talkers, Chibitty, Roderick Red Elk, and Forrest Kassanavoid and were presented the Chevalier de L'Ordre National du Merit in recognition of code talker services in both world wars. In November, 1999, the U.S. Army presented a special award to Charles Chibitty, the last surviving Comanche code talker. In a ceremony at the Pentagon's Hall of Heroes, Chibitty was presented the Knowlton Award for his World War II service. Charles Chibitty is pictured doing his job as a code talker on Omaha Beach. He represents all of the Oklahoma Code Talkers of World War II.
Images are copyright of The Oklahoma State Senate Historical Preservation Fund, Inc. and the artist. Please contact Matt Duehning at 405-524-0126 or Matt.Duehning@oksenate.gov for further copyright information.