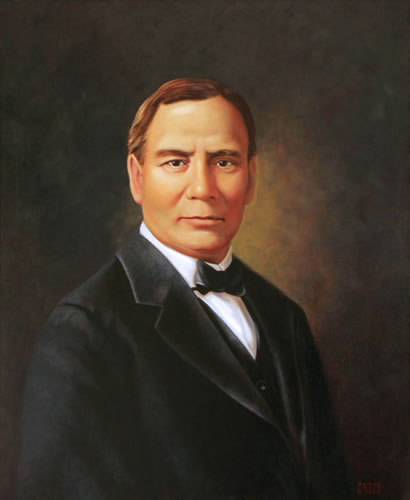 Artist: Christopher Nick
Sponsor: Cherokee Nation Tourism
Dedication: April 8, 2008
Size: 24" x 36"
Type: Oil on Canvas
Location: House Lounge
Houston Benge Teehee was born on October 14, 1874 in Sequoyah County to Stephen Teehee and Rhoda Benge.  He was a Cherokee who was destined to bring honor and recognition to his country.   His father was a prominent farmer and Baptist minister who spoke only the Cherokee language.  Houston attended the Cherokee common schools and later the Cherokee Male Seminary at Tahlequah.  After graduation from the Seminary, he was a student at Fort Worth University.
He returned to Tahlequah and after working as a clerk for a period of ten years, he became Cashier of the Cherokee National Bank of Tahlequah in 1906.  During this time, he studied law under Judge John Pitchford.  He resigned his position as Cashier of the Bank in 1908 and began the practice of law in Tahlequah.
Teehee was highly regarded in public life, serving as alderman and later as mayor of his home city to 1910.  He was elected Representative from Cherokee County to the Third State Legislature in 1910, and re-elected two years later to the Fourth Legislature, where constitutional law was his specialty.
Teehee was appointed Registrar of the United States Treasury and went to Washington, D.C. in 1914.  His name appeared on all Federal notes and bonds during WWI, from 1915 to 1919, under President Woodrow Wilson. He was responsible for the Liberty Loans and other financial measures of the war and it is believed that he signed his name to documents representing more money than ever came under the control of another man in the history of the world at that time.
In 1917, Houston Teehee was a keynote speaker at the dedication of the statue of Sequoyah in the United State Capitol building.
He returned to Oklahoma and served for a number of years as an executive with Continental Asphalt and Petroleum Company headquartered in Oklahoma City.  He also served as Assistant Attorney General of Oklahoma (1926-27); was a member of the Supreme Commission of Oklahoma, representing the First Judicial District of the Supreme Court (1927-31).
He returned to make his home in Tahlequah and gave his time to his law practice.  He rendered great service to many leaders in affairs of the Cherokee nation, acting as counselor and advisor in matters affecting individuals as well as families and communities.  He was a member of Cherokee Lodge A.F. and A.M., the oldest Masonic Lodge in Oklahoma.  He was a deeply spiritual man and an ardent member and worker of the Presbyterian Church.  He was inducted into the Oklahoma Hall of Fame in 1942.
Mr. Teehee married Miss Haglund, daughter of Swedish immigrants, on December 11, 1898.  He died at Tahlequah in 1953, survived by his wife.  He had no children nor any living brothers or sisters at the time of his death.
Images are copyright of The Oklahoma State Senate Historical Preservation Fund, Inc. and the artist. Please contact Matt Duehning at 405-524-0126 or Matt.Duehning@oksenate.gov for further copyright information.