45th Infantry at Pork Chop Hill, Korea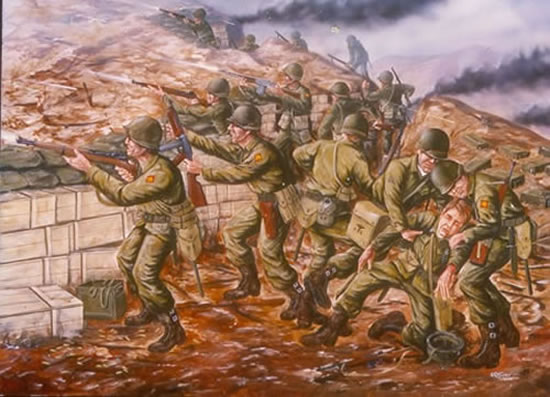 Artist: R.T. Foster
Sponsor: General Fred Daugherty
Dedication: February 26, 2003
Size: 48" x 36"
Type: Acrylic on Canvas
Location: 5th floor, South hall, House wing
During the 45th Infantry Division's 429 days of combat during the Korean War, 378 were spent on the Jamestown Line along the Chorwon Valley. There the Thunderbirds became familiar with places with names like T-Bone, Hill 223, Outpost Eerie, Hill 200, Alligator Jaws, and Pork Chop Hill.
The 45th Infantry Division (Thunderbirds) arrived in Korea in December 1951. It was the first of two National Guard Divisions to see action in the conflict. The Thunderbirds took up defensive positions in the Yonchon-Chorwan area and took part in a number of actions in the vicinity of Pork Chop Hill, Old Baldy and Heartbreak Ridge, as well as other sectors. The 45th held their ground against the communist forces until the peace accord was signed in July 1953.
During the period from December 1951 to June 1952, the Division's 179th and 180th Infantry Regiments fought repeatedly over Pork Chop Hill, a key piece of terrain which commanded the area.
Even after the 45th Division was relocated to the Eastern side of the Korean peninsula, Pork Chop was still hotly contested.
Images are copyright of The Oklahoma State Senate Historical Preservation Fund, Inc. and the artist. Please contact Matt Duehning at 405-524-0126 or Matt.Duehning@oksenate.gov for further copyright information.