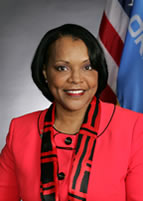 Sen. Constance N. Johnson
The Oklahoma Legislative Black Caucus issued the following statement today regarding the Senate's refusal to hear the nomination of Jim Roth to the State Election Board.
"We are disheartened by the Senate Rules Committee's refusal to allow Gov. Mary Fallin's nomination of Jim Roth to the State Election Board to be heard in committee. Committee Chair Sen. Rob Johnson's statements that he did not have the votes to pass the nomination are insufficient to address his refusal to even give Mr. Roth a chance to receive an up or down vote.
"Jim Roth, Oklahoma's first openly gay statewide office holder, is imminently qualified. As an attorney he is well versed in the laws of this state. He has served as District 1 Oklahoma County Commissioner and as a Corporation Commissioner. The Governor appointed Mr. Roth to the State Election Board in October of 2011, where he has presided over several special legislative elections and the sign-up process for candidates for the 2012 election. This fact alone attests to his effectiveness regardless of his political affiliation.
"We hope that as author of the controversial State Question 759 (Affirmative Action Repeal), Sen. Rob Johnson's reasons for not hearing Jim Roth's nomination are unrelated to his sexual orientation. We urge Senate leadership to reconsider their decision and to give Mr. Roth's nomination due process."
Contact info
Sen. Johnson: (405) 521-5531 Chair, Legislative Black Caucus