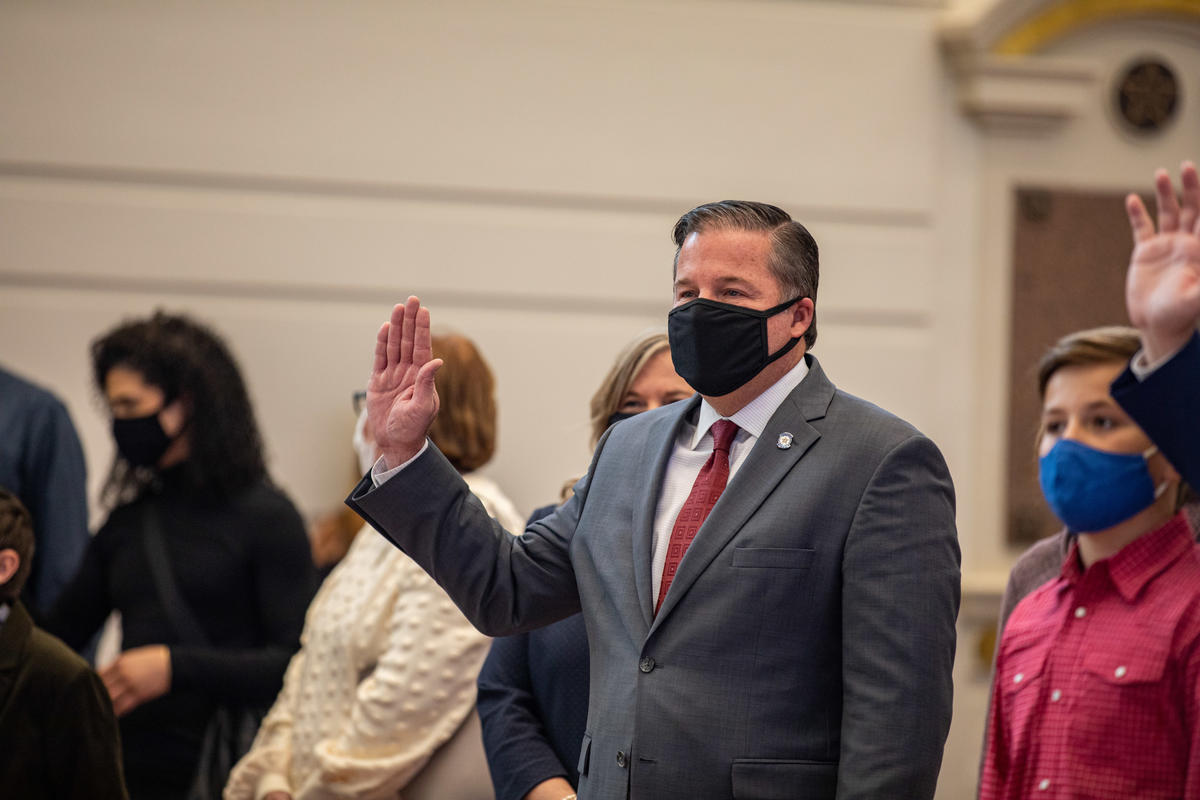 Sen. Lonnie Paxton, R-Tuttle, begins his second term after taking the oath of office Tuesday.
OKLAHOMA CITY – Sen. Lonnie Paxton began his second term in the Oklahoma State Senate after taking the oath of office in the Senate Chamber Tuesday. The Tuttle Republican was among four Senators who were sworn in by State Supreme Court Chief Justice Noma Gurich. 

"I'm humbled and grateful that the citizens of Senate District 23 have entrusted me to continue serving as their voice in the Oklahoma Legislature," Paxton said. "Oklahoma is no stranger to adversity—we've survived the Dust Bowl and many other natural disasters, oil busts, the Murrah bombing, and other difficult times in our state's short history. Oklahomans are tough and self-sufficient, though, and have never let a tragedy keep them down. During this historic pandemic, we'll continue to work together to keep our economy growing while protecting our businesses, schools, churches and other establishments. Recovery won't be easy, but we will do all we can legislatively to help the state come out even stronger than before."
In his first four years, Paxton has been a strong advocate for public safety and health, law enforcement, protecting Oklahoma's youth and elderly, and strengthening the agricultural industry. Thanks to his hard work, Oklahoma has new laws better protecting children from abuse and neglect, adding mental health training to CLEET curriculum and ensuring police officers seriously injured in the line of duty get full disability benefits. His signed bills also better protect consumers and businesses from porch piracy and prohibit the smoking or vaping of medical marijuana in public places. He also created the Protection from Workplace Harassment and Violence Act as well as the Oklahoma Industrial Hemp Agricultural Program.
As chairman of the Oklahoma Senate Select Committee on Redistricting, Paxton is currently working with the public and his legislative colleagues to fulfill the legislature's constitutional duty of drawing state legislative and congressional districts using data from the 2020 Census. With input from the committee and the public, the legislature will vote on new districts this coming session. He also serves as the Senate's Assistant Majority Floor Leader. 
This week, Paxton was also appointed as chair of the Senate Public Safety Committee and will serve on the Business, Commerce and Tourism, Judiciary and Rules Committees as well as the Appropriations Subcommittee on Public Safety and Judiciary.

The Senate will convene for an Organizational Day on Tuesday, Jan. 5 and session will begin on Monday, Feb. 1.
-END-
For more information contact: Sen. Paxton: (405) 521-5537 or Lonnie.Paxton@oksenate.gov