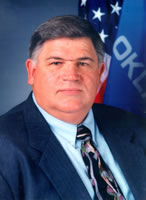 Senator Johnnie Crutchfield
The State Senate has given unanimous approval to a measure aimed at making sure more World War II vets get their long delayed high school diplomas. That's according to Senator Johnnie Crutchfield, author of Senate Bill 900.
"I'm gratified that every single vote was in favor of this measure. These Oklahomans were just teenagers when they decided to put their own lives on hold because their country needed them. This measure will assure that any WWII veterans who may not have qualified for their diplomas under earlier legislation will now be eligible," explained Crutchfield, D-Ardmore.
The original legislation approved last year required an individual to have served a minimum of 18 consecutive months on active duty or to have been discharged with a service-connected disability between September 16, 1940 and December 31, 1946. However Senator Crutchfield later learned that those restrictions would prevent some veterans from getting their diplomas.
"That certainly was not our intention. We want these heroes to be able to cross that stage and get their diploma. This bill will enable them to do just that," said Senator Crutchfield.
The legislation now moves to the House of Representatives for further consideration.
Contact info
Senate Communications Division - (405) 521-5605