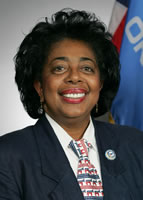 Senator Judy Eason McIntyre
Lack of prenatal care for babies and their mothers costs the State of Oklahoma millions of dollars each year and the lives of hundreds of infants. On Thursday, the Senate passed Senate Concurrent Resolution 23, by Sen. Judy Eason McIntyre, to help bring awareness to this growing problem in the state.

"Oklahoma ranks third in the percentage of infants who die each year before reaching the age of one. These are senseless deaths, a majority of which could be prevented with prenatal care," said Eason McIntyre, D-Tulsa. "This resolution is about preventing those deaths by helping raise awareness of the importance of prenatal care."

Oklahoma currently ranks 44th in the percentage of babies and their mothers who do not receive prenatal care. An estimated 53 babies are born without prenatal care each day in the state. SCR 23 declares April 3, 2007, "Prenatal Care Awareness Day" in the state to help educate people on the importance of prenatal care.

"This is everyone's battle. Low birth weight and premature babies, both side effects from the lack of prenatal care, cost the medical system millions of dollars," said Eason McIntyre. "But prenatal care can cut the costs of delivery and lower the infant mortality rate in our state."


Contact info
Senator Eason McIntyre's Office: (405) 521-5598