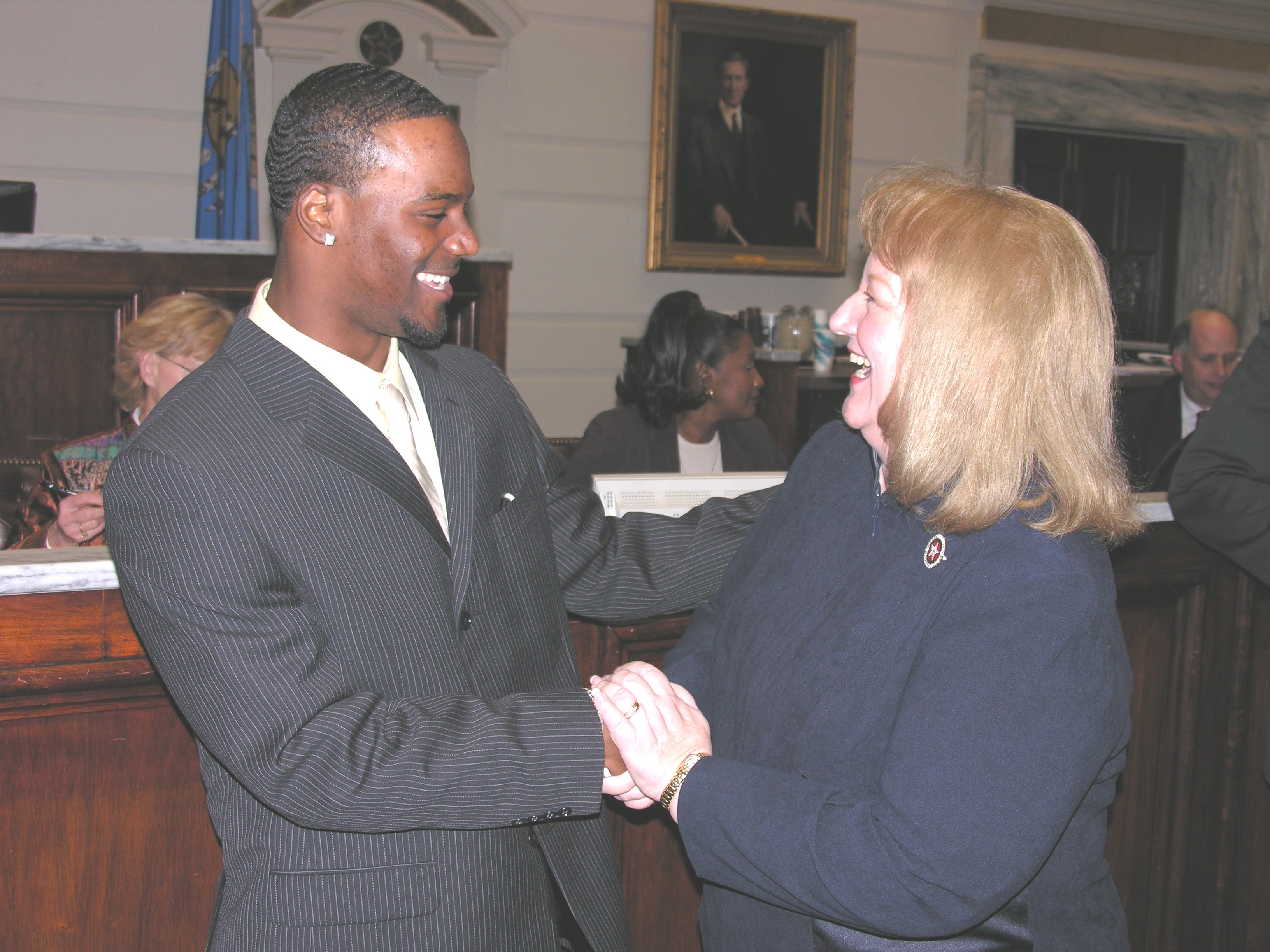 Senator Debbe Leftwich congratulates Aaron Ross on the Senate floor.
2006 Jim Thorpe Award winner Aaron Ross, of the University of Texas, was honored on the floor of the state Senate on Monday. The Senate unanimously approved Senate Resolution 5, recognizing and commending the standout defensive back.
As a senior, Ross was tabbed first-team All American by the Walter Camp Football Foundation and the Football Writers Association of America and was selected first-team all Big 12. Ross was also chosen as the University of Texas Defensive MVP.
Sen. Debbe Leftwich, author of Senate Resolution 5, said Ross was a worthy honoree who exemplified excellence both on the field and off.
"As a member of the 2005 national championship Longhorn team, Ross stood apart as one of the most important players on the nation's best team," said Leftwich, D-Oklahoma City. "In 2006, he continued to perform at an elite level and there was little question he deserved this honor as the nation's top defensive back. Additionally, his active participation in the University of Texas community service program distinguishes him as an exemplary student athlete."
In 2006, Ross accumulated 80 tackles, five interceptions and fifteen pass-breakups. Ross was at his best against the most challenging competition, recording 20 tackles, two interceptions, forcing a fumble and returning a fumble for a touchdown against top-25-ranked opposition. Ross was also one of the top punt return specialists in the nation.
Over three seasons, he returned 74 punts for 894 yards and three touchdowns for an average of 12.1 yards per attempt. In 2006, he became only the second Longhorn player in University of Texas football history to return two punts for touchdowns in the same season.
"Aaron dedicated his senior season to his mother, who provided him with encouragement and advice in difficult times," Leftwich said. "This is just another example of the high character displayed by Ross throughout his college career. I commend Aaron Ross on his fine performance this season, and wish him the best as he moves on to start his professional career," Leftwich said.
Ross becomes the second consecutive Texas Longhorn to be honored with the Thorpe award, following Michael Huff in 2005.


Contact info
Senator Leftwich's Office - (405) 521-5557