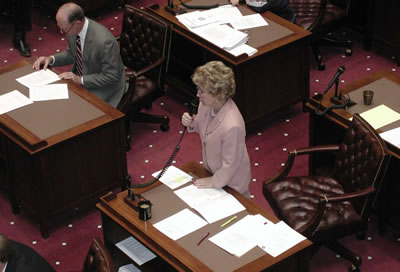 Senator Kathleen Wilcoxson, R-OKC explains HB 1092 on the Senate floor.
OKLAHOMA CITY - In the wake of more school shootings across the nation, the State Senate has approved legislation aimed at children who make violent threats against classmates and school employees, including kids who create so-called "hit-lists."
Senator Kathleen Wilcoxson is Senate author of House Bill 1092, which would allow schools to suspend students for up to one year for threatening to shoot, kill, maim or otherwise seriously harm another student or school employee. At the end of that suspension, the school board would determine whether the student could return to class or if the suspension would be extended.
"I cannot begin to tell you the number of calls I've gotten from school administrators, educators and parents who are concerned about this problem. The fact is it happens more often than we hear about, and students need to know this simply won't be tolerated," said Senator Wilcoxson, a former educator and Oklahoma City Teacher of the Year.
"I realize that some parents and others might think suspending a child just for threatening to do something is going too far. But the fact is, these kids often follow through with those threats," noted Senator Wilcoxson.
"When you walk into an airport, there are signs saying any kind of bomb threat will be taken seriously, resulting in arrest and prosecution. You could wind up behind bars for simply joking about having a bomb. It is too serious a matter to kid about. So are school shootings and hit-lists," explained Senator Wilcoxson.
The measure now returns to the House for consideration of Senate amendments.

Contact info
Senate Communications Division - (405) 521-5605