Joel McCoy Reimer received a Citation this week at the local Rotary meeting from Senator Marty Quinn, R-Claremore, recognizing his most recent FFA achievement.  Reimer received the FFA's prestigious American Degree at the 87th Annual FFA Convention in Louisville, KY, an award given to less than one-half of one percent of the nation's 579,678 FFA members and only 137 Oklahomans this year.
The American Degree honors FFA members who show the utmost dedication to the organization through their desire to develop their potential for premier leadership, personal growth and career success in agriculture. 
"Joel was also recognized this week not only for the American Degree, but also for his achievements in the Pro Rough Stock, World's Toughest Rodeo held in conjunction with the National Convention," said Quinn. "Joel was the only FFA member among the other professional competitors, making it exciting for the sold-out crowd as one of their own competed in the saddle bronc event."
Reimer, also a previous Rotary Senior Scholarship recipient, spoke to the Rotarians at the meeting, sharing highlights of his activities since graduating from Sequoyah High School, including how he has been able to use his scholarship to further his college education at Oklahoma Panhandle State University in Goodwell. 
In high school, he was active in the Sequoyah FFA Chapter and served as the Chapter treasurer, and attended the Washington D.C. Leadership Conference and alumni leadership camps each summer.  He raised cattle and trained horses, and he participated in rodeo competitions.  Reimer also showed swine and beef as well as remaining active in judging and speech throughout his five years as a FFA member.
He is currently a sophomore at OPSU, majoring in Ag Business.  Reimer is also a member of the rodeo team where he received a scholarship to compete in saddle bronc, calf roping and team roping with the OPSU Men's Rodeo Team as the reigning top team in the nation.
"I commend Joel for his leadership and success," said Quinn.  "His commitment to excellence both in school and in organizations like FFA is outstanding."
Reimer is the only American Degree recipient from the Sequoyah Chapter this year.  His older brother, Thad, was Sequoyah's first member to receive the American Degree in 2009.   Joel is the son of Rick and Ginger Reimer. He is the grandson of Cliff and Fern McCoy of Claremore and Ernie and Marilyn Reimer of Owasso.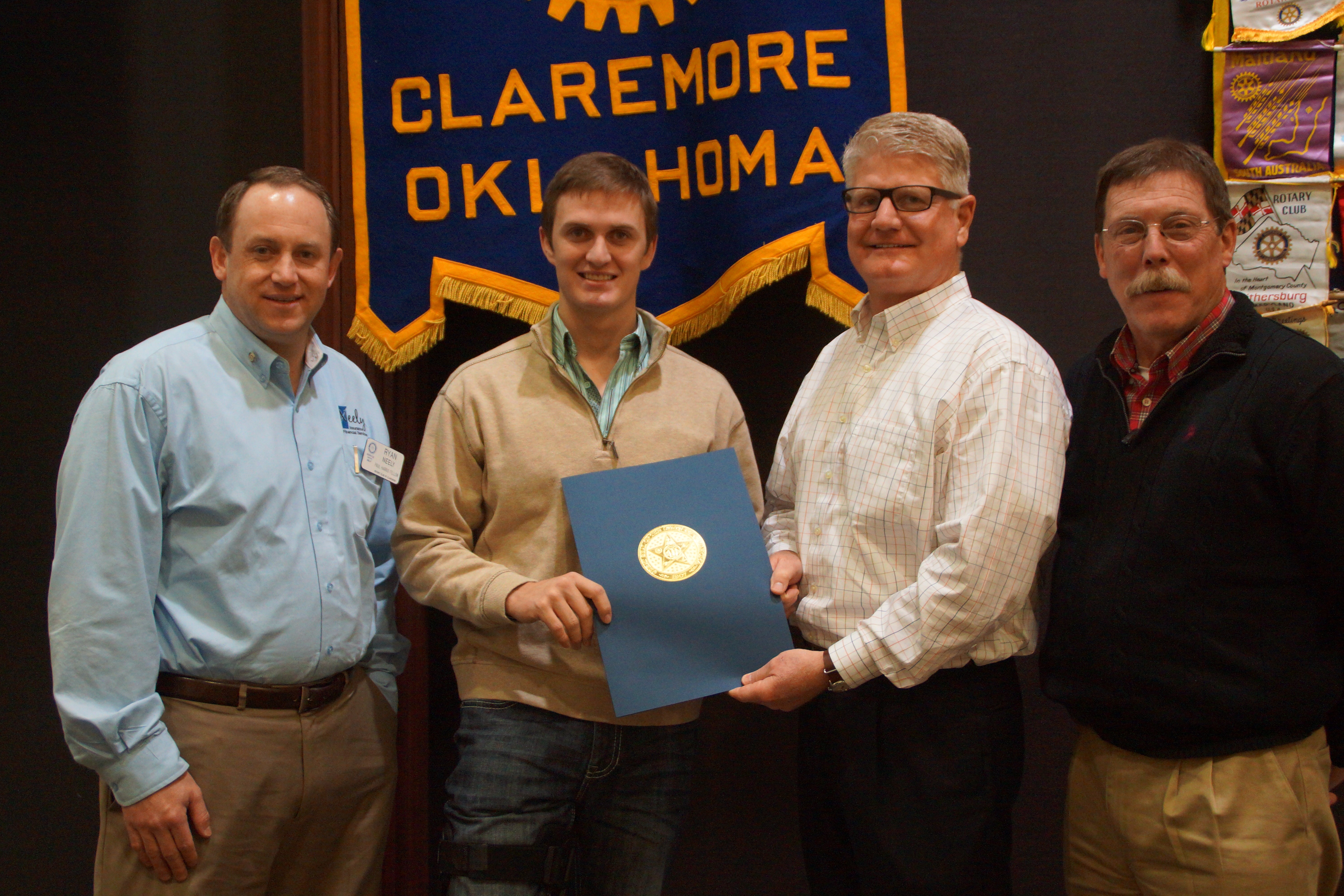 Joel Reimer received a Citation from Senator Marty Quinn at this week's Rotary meeting.  The Citation was presented by Rotarian Rick Mosier, Rotary President, Ryan Neely (left) and Rotarian Rick Reimer (right)
Contact info
Sen. Marty Quinn at 405-521-5555 or email
quinn@oksenate.gov