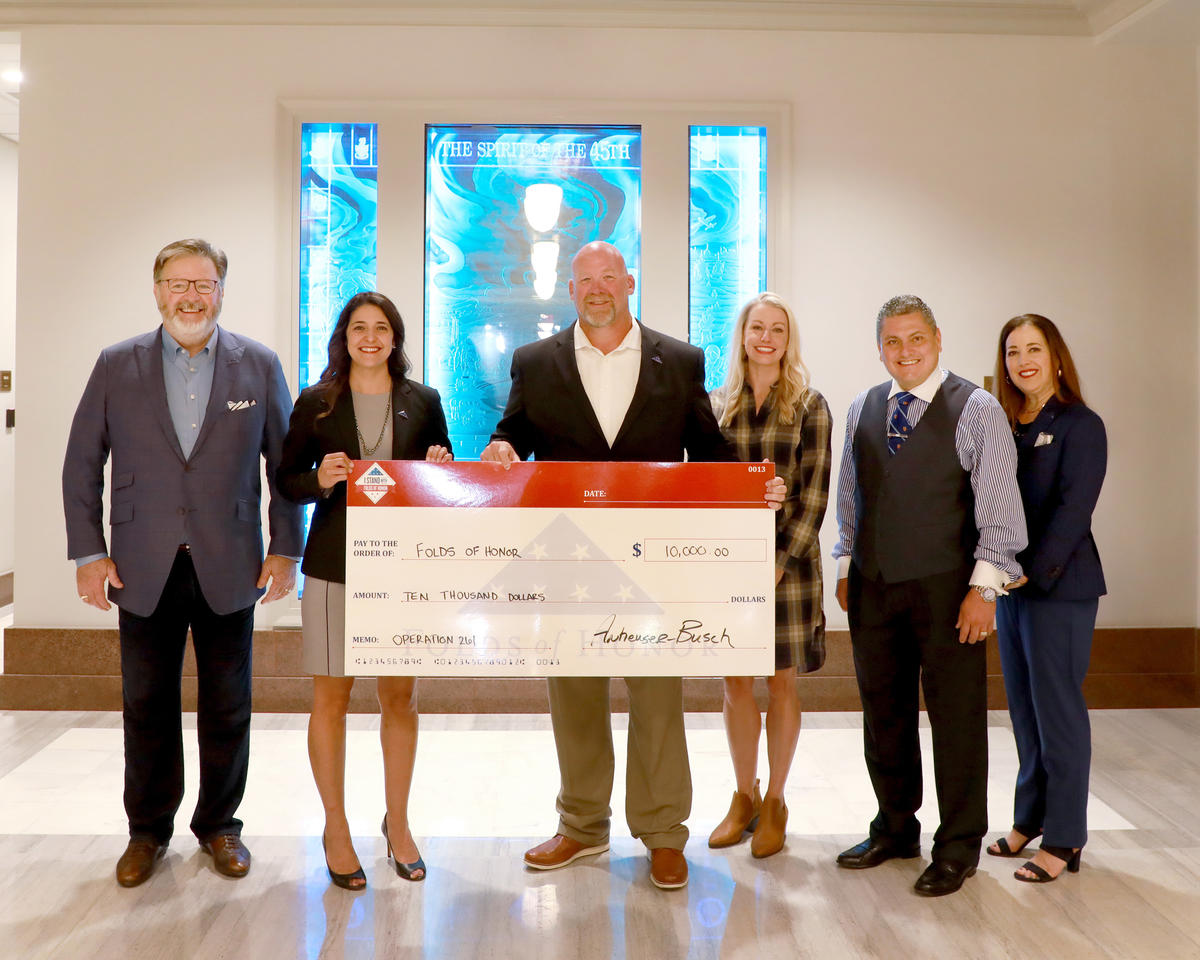 State Sen. Stephanie Bice, named as honorary chair of Oklahoma Folds of Honor's Operation 261 scholarship campaign, was on hand for the presentation of a $10,000 donation by Anheuser-Bush to the organization. Left to right, Gary Huddleston, director, Folds of Honor Oklahoma City Chapter, Sen. Stephanie Bice, R-Oklahoma City, Jason Hall, senior director of sales and marketing, Anheuser-Busch Sales of Oklahoma, Monica Woodward, regional development officer, Folds of Honor, Maj. Ed Pulido, senior vice-president, Folds of Honor Foundation, and founder of Warriors for Freedom, and Lisette Barnes, president, Oklahoma Beer Alliance.
OKLAHOMA CITY – State Sen. Stephanie Bice, R-Oklahoma City, has been named honorary chair of the Oklahoma City Folds of Honor's Operation 261 campaign, a drive to fund scholarships for spouses and children of fallen and disabled veterans.  Since the founding of Folds of Honor in 2007, the organization has awarded over 24,500 educational scholarships.
"I am proud to be named honorary chair for this year's Operation 261 campaign," Bice said.  "Folds of Honor's motto is 'honor their sacrifice, educate their legacy.' There are more than a million disabled and fallen service members nationwide affected by war, and nearly two million dependents of military heroes who are adversely impacted.  The money we're raising will help the families of Oklahoma heroes.  This is an enduring tribute to our veterans—I'm humbled and honored to play a role in that effort."
Throughout her service in the Legislature, Bice has supported numerous measures benefiting veterans and their families, including championing legislation creating a specialty license plate on behalf of Folds of Honor.
Ryan Lewellen is president of the Oklahoma City Folds of Honor Chapter.
"The Folds of Honor OKC Chapter is proud to name Senator Bice as the honorary Chair of Operation 261. Senator Bice has stepped up to make sure we do not leave one of the 261 Oklahoma military families behind that have been awarded a Folds of Honor scholarship and that have sacrificed so much for our freedoms," Lewellen said.
Folds of Honor has the highest rating on both GuideStar and Charity Navigator for their performance as a non-profit organization.  Ninety-one percent of every dollar raised goes into the scholarship program.  Operation 261's goal is to raise $1.25 million to fund legacy scholarships in Oklahoma. To learn more or donate, go to www.operation261.org.             
Contact info
For more information, contact Sen. Stephanie Bice at 405-521-5592 or email Stephanie.Bice@oksenate.gov.