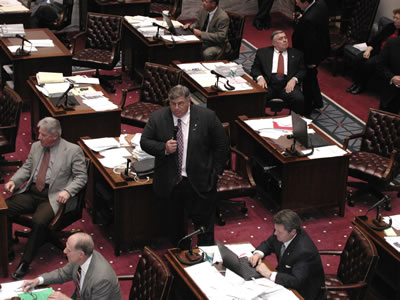 Senator Johnnie Crutchfield explains his Sales Tax Holiday Bill on the Senate Floor 2-27-02
Legislation aimed at giving Oklahomans their own sales tax holiday weekend each August has won approval from the full Senate. Senate Bill 816 by Senator Johnnie Crutchfield would exempt most clothing and footwear purchases of up to $100 beginning the first Friday in August and ending the following Sunday.
"I'm very excited that my fellow Senators agreed this is the kind of tool we need to help our economy. I realize this is a difficult year as far as the budget goes, but I think this will help our local businesses by encouraging people to shop here in Oklahoma, instead of going to Texas every August. Ultimately I think we'll come out ahead," said Crutchfield.
For years, thousands of Oklahomans have crossed the Red River to take advantage of the Texas Sales Tax Holiday program which was aimed at helping families save on back to school expenses. But businesses in the Sooner State have suffered as a result, saying they can't compete without a similar program.
"I really don't think this bill will cost the state that much, because we're losing that revenue anyway; it's going to Texas. That money is going into Texas cash registers, and going back into their economy, not ours. I say let's keep our shoppers home, and put that money into Oklahoma cash registers," said Crutchfield.
The legislation now moves to the House of Representatives for consideration.
Contact info
Senate Communications Division - (405) 521-5605