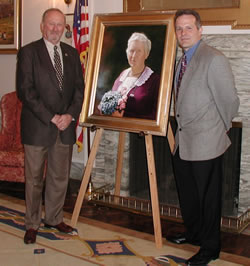 Sen. Charles Ford and Artist Mike Wimmer with portrait of Miss Alice Robertson.
Senator Charles Ford announced the dedication of another original painting commissioned by the Oklahoma State Senate Historical Preservation Fund Inc. The painting, a portrait of Oklahoma's first and only woman to serve in Congress, Alice Robertson, was created by award winning illustrator and artist Mike Wimmer of Norman. The portrait was sponsored by Senator Ford and was unveiled in the Senate Chamber on Tuesday afternoon.
"In 1920 Alice Robertson became the second woman to be elected to Congress and the first from Oklahoma. In 1921, during a roll call vote on a funding measure she became the first woman ever to preside over a session of the House of Representatives. She was not afraid to speak her mind and vote her conscience, attributes that cost her a second term. Nevertheless, Miss Robertson made history through her service in Congress and continued her work as a public servant working for the Veterans' Hospital in Muskogee and for the Oklahoma Historical Society," said Senator Ford.
Robertson was 67 and already had a diverse career when she decided to run for Congress in 1920. Born on January 2, 1854, at the Tullahassee Mission of the Creek Nation in Indian Territory, she was taught by her missionary parents and went on to attend Elmira College in New York. From 1873 to 1879 she worked as the first woman clerk in the Office of Indian Affairs in Washington. Back in Oklahoma, she founded the Minerva Home and School for Girls, which later became Henry Kendall College. Robertson served as Kendall's first superintendent and professor of English. She also chaired Civics and History at Kendall, which is now known as the University of Tulsa. From 1905 to 1913 she was Muskogee's postmaster and later operated a dairy farm and cafeteria there.
When Robertson ran for Congress against three-term incumbent William W. Hastings in 1920, it was the very first national election following the ratification of the Nineteenth Amendment which gave all American women the right to vote. However Robertson disassociated herself from suffragists and other women's right advocates due to what she saw as a bureaucratic intrusion on person rights. Her stand provoked condemnation from women's political groups and organizations such as the Daughters of the American Revolution.
Robertson resided in Muskogee until her death in 1931.
This and other art commissioned by the Oklahoma State Senate Historical Preservation Fund, Inc. can be found on the Internet at: http://www.lsb.state.ok.us/senate/welcome.html.
Contact info
Senate Communications Division - (405) 521-5774