A new law takes effect this November 1 that will better protect stranded motorists and wrecker services on Oklahoma roads and highways.  The legislation, by Senate principal author, Sen. Brent Howard, and House principal author, Rep. Charles Ortega, directs drivers to change into lanes that are not adjacent to the lane in which a stationary vehicle is displaying flashing lights.  If no extra lane exists, drivers are to slow down and proceed cautiously. 
The authors and supporters of the measure were on hand at the state Capitol for a recent ceremonial signing of Senate Bill 89 with Gov. Kevin Stitt.
 "Our goal is to make Oklahoma's highways and roads as safe as possible for all who work, live and travel throughout our state. I appreciate the efforts by state agencies, transportation safety advocates and the media to help educate the public about this safety concern and about the new law that takes effect this November 1.  Hopefully by increasing awareness and promoting greater caution, we can help avoid crashes that could result in serious injuries."
"Currently, this law only applies to emergency vehicles, tow trucks and Turnpike Authority vehicles, but every day we see other cars stopped on the side of the road," Rep. Charles Ortega, R-Altus, said. "By requiring drivers to change lanes and slow down for any stationary vehicle displaying flashing lights, we will help protect our fellow Oklahomans. I'm proud to have worked with my colleague Senator Howard to help pass this vital legislation and increase safety standards on our state's roads."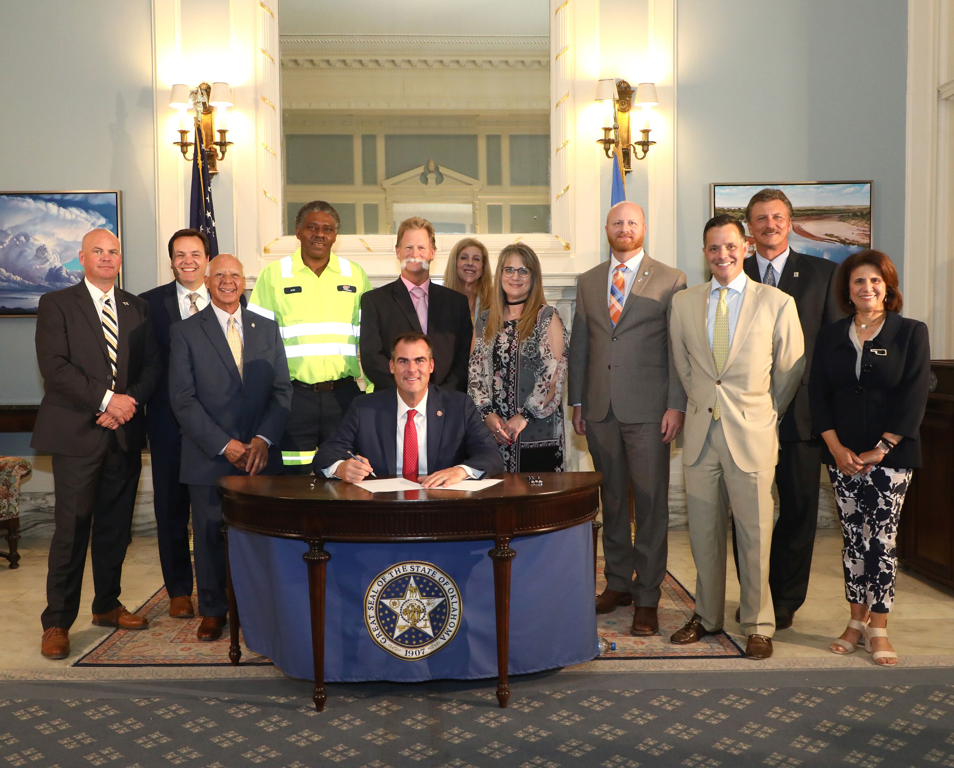 Representatives of law enforcement, state agencies, safety organizations and other officials gathered for a ceremonial signing of Senate Bill 89 by principal Senate author Sen. Brent Howard and principal House author, Rep. Charles Ortega.  Pictured from left to right, Sheridan O/Neal with the Oklahoma Department of Public Safety (DPS), Taylor Henderson, the Oklahoma Department of Transportation (ODOT), Rep. Ortega, Joe Snell, AAA, Roger Straka, ODOT, Leslie Gamble, AAA, Stephanie Richardson, ODOT, Sen. Howard, Sec. of Public Safety, Chip Keating, Sec. of Transportation Tim Gatz, Terri Angier, ODOT and Gov. Kevin Stitt, seated.
Contact info
Sen. Brent Howard at 405-521-5612