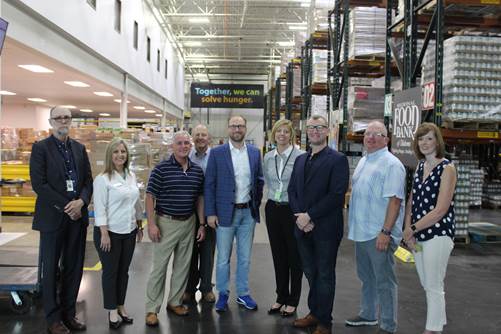 OKLAHOMA CITY – During his first week on the job, Department of Human Services (DHS) Director Justin Brown joined Sen. Paul Rosino, R-Oklahoma City, to tour the Regional Food Bank of Oklahoma Friday morning and learn about how hunger is affecting Oklahoma families.  
            "Hunger is an issue that negatively impacts our state in so many ways from kids who can't focus in the classroom to senior citizens choosing between buying prescriptions or groceries.  It's a tragedy facing one in four children and one in six adults, but fortunately we have tremendous organizations like the Regional Food Bank that are there for Oklahomans struggling with food insecurity," said Rosino, Vice Chair of the Appropriations Subcommittee on Health and Human Services.  "It was important to me to share a behind-the-scenes look at the nationally-recognized work the Food Bank is doing to address hunger for Oklahoma families."
            The tour was a part of Director Brown's onboarding as the Regional Food Bank facilitates several DHS programs around the state. 
"My family and I have volunteered at the Food Bank for years; however, Senator Rosino's invitation was a great opportunity to view this partnership through a different lens. The opportunity that we have to build a true service network with organizations like this gives me hope that we will be able to develop a platform that meets our customers where they are," said Brown.  "Access to resources is a barrier for the poor and working poor, and working directly with the Regional Food Bank can help DHS provide for the needs of our most at-risk citizens." 
Current DHS programs facilitated by the Regional Food Bank:
CSFP – Commodity Supplemental Food Program, a box food program that aids senior citizens
TANF – Emergency food provision for eligible families on a limited basis
Senior Mobile Markets – provide fresh food to 18 different Oklahoma Housing Authority sites that distribute food
Retail recovery program in partnership with the Oklahoma Department of Corrections – women from the Oklahoma City Community Corrections Center work to help sort incoming food donations 
            "The Regional Food Bank has a longstanding relationship with DHS so it was our pleasure to bring Director Brown along with other DHS staff up to speed on the nature of our shared work as well as introduce the full scope of what the Regional Food Bank does even beyond our DHS partnership," said CEO Katie Fitzgerald.
The tour included a walk-through of the facility along with an explanation of the numerous services and programs the food bank provides.  The Regional Food Bank's "LEAN Process Improvement" efforts were discussed as well as the cost savings that have resulted.  
 "Fostering partnership with state agencies and the nonprofit sector is vital to the work we do in state government," said Rosino.  "Organizations like the Regional Food Bank are on the front lines and are able to approach issues differently than state agencies. However, it's still important that the two work together to ensure a collaborative approach in services that truly meet the needs of citizens."
Contact info
Sen. Rosino: (405) 521-5618