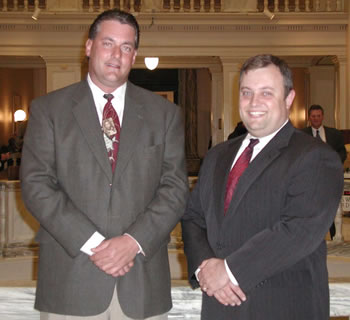 Sen. Glenn Coffee (right) and Rep. Richard Phillips, authors of HB 1081
OKLAHOMA CITY - A measure to repeal the state's mandatory vehicle inspections has been signed into law. House Bill 1081 authors Representative Richard Phillips and Senator Glenn Coffee say it will result in a $12 million savings, as well as eliminating an outdated mandate.
"I'm very happy that we've been able to repeal this outdated requirement. There are too many hassles and expenses to deal with day to day as it is. I'm sure the majority of Oklahomans will be thrilled that we've done away with this one," said Sen. Coffee, R- Oklahoma City.
The majority of states in the U.S. had already abolished the yearly vehicle inspection requirement after the federal law mandating them was repealed. However previous attempts by in the Oklahoma legislature to end the inspections had failed, with opponents voicing concerns about diminished safety of vehicles.
"There is not a single study or piece of evidence to show that these mandated inspections have ever done anything to increase safety or reduce the amounts of accidents and injuries on our roads and highways. Furthermore, it was becoming more and more difficult to find a garage willing to do the inspections, because financially, it isn't worth their time," said Rep. Phillips, R-Warr Acres. "We're extremely grateful that our fellow lawmakers and Governor Keating have agreed to end this unnecessary mandate."
The yearly inspections cost Oklahomans $5 a year per each vehicle owned. Of that $5, only $1 actually supports state services such as law enforcement. Under HB 1081, that $1 fee will simply be transferred to the yearly renewal of vehicle tags.
"We've found a way to save Oklahomans $4 a year on every car they own while preserving funding for public safety and other areas. Plus we've eliminated what many people saw as a major hassle. Anytime we can simplify people's lives by eliminating red-tape or outdated mandates, I'd say that's a pretty good deal," said Senator Coffee.
Contact info
Senate Communications Division - (405) 521-5605