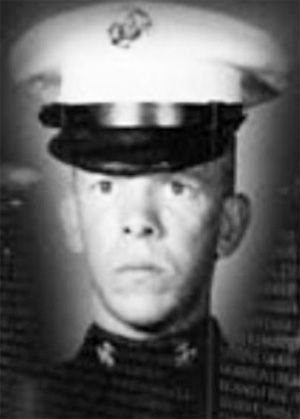 U.S. Marine Corp. Private First Class Tommy Wayne Haley
OKLAHOMA CITY - Nearly 1,000 Oklahomans died in the Vietnam War, and many more were injured. Among those brave souls was U.S. Marine Corp. Private First Class Tommy Wayne Haley of Lexington, who died while in combat. Sen. Mary Boren, D-Norman, has filed Senate Bill 444 to honor Haley's service and sacrifice by designating the bridge over Chouteau Creek on U.S. Highway 77 in Cleveland County as the "Tommy Wayne Haley Memorial Bridge".

"There is no greater sacrifice an American can make for our great country. In the middle of such a controversial and deadly war, Tommy chose to enlist to further freedom in Vietnam and help those who couldn't help themselves," Boren said. "Just one day short of having served eight months in the U.S. Marine Corp., Private First Class Haley was struck down by hostile fire. This bridge will forever serve as a memorial and a sign of unending gratitude for this brave Oklahoma son's service and sacrifice."

Haley was born in Roswell, New Mexico, in June of 1947, and raised in Enid, Oklahoma. He enlisted in the Marines on September 14, 1966, at the Oklahoma Recruiting Office. Serving as a Rifleman, he was assigned to Mike Company, 3rd Battalion, 5th Marine Regiment, 1st Marine Division. Haley was killed by small arms fire on May 13, 1967, just short of his 20th birthday in the Quang Tin province of South Vietnam.

Haley is honored on the Vietnam Veteran's Memorial in Washington, D.C. He received numerous commendations for his service and sacrifice including the Purple Heart, the Combat Action Ribbon, the Marksmanship Badge, the National Defense Service Medal, the Vietnam Campaign Medal, the Vietnam Service Medal, the Marine Corps. Presidential Unit Citation, the Vietnam Gallantry Cross, the Marine Corps. Good Conduct Medal, and the Marine Corps. Expeditionary Medal.
-END-
For more information contact: Sen. Boren: (405) 521-5553 or Mary.Boren@oksenate.gov
Every 10 years, the Oklahoma Legislature is constitutionally required to redraw legislative and congressional district boundaries using the latest U.S. Census data. For more information about the Oklahoma Senate's redistricting process, visit www.oksenate.gov, or submit your redistricting questions at redistricting@oksenate.gov.