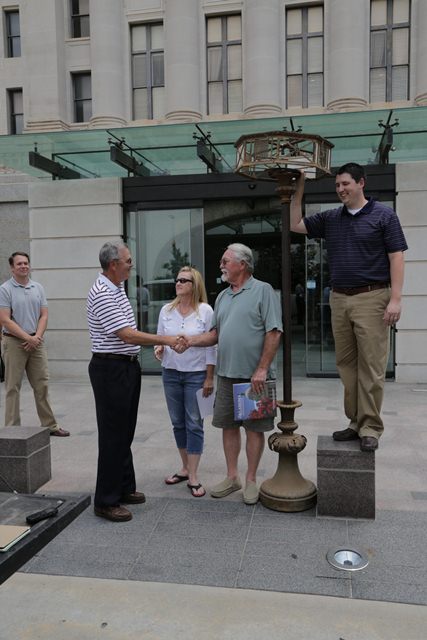 Senate President Pro Tempore Brian Bingman is pictured with Debbie and Coy Green, while Trait Thompson is pictured at right. Senate Chief of Staff Randy Dowell is pictured at left.
The Senate Chamber is shown in 1920, with its original floor lamps pictured around the boundary of the room.
After seeing recent media coverage of the discovery of long-lost light fixtures from the Senate chamber, a Norman man finally understood the significance of the large floor lamp he had been storing in his barn.

Coy Green said he purchased the lamp at an Oklahoma City swap meet approximately 40 years ago for about $25. When Green saw a picture of the Senate chamber in 1918, along with a story about the discovery, he knew he had something special. On Tuesday, Green delivered the lamp to the state Senate.

"When I saw the picture, I knew it was a Senate lamp," Green said. "We were very happy, and it's good to be able to do this – it needs to be home."

Last week, 11 of the 20 original wall sconces were discovered in long-forgotten attic space above the sixth floor of the Capitol. The Senate is currently undertaking a restoration of a large conference room on the fifth floor, which had been divided into multiple offices decades ago.

Photos provided by the Oklahoma Historical Society show approximately eight to ten floor lamps tracing the boundary of the Senate chamber shortly after its initial construction. When fully assembled Tuesday, the bronze lamp measured approximately nine feet in height.

Senate President Pro Tempore Brian Bingman said the donation will give the Senate a chance to replicate one of the most unique features of the chamber in its original condition.

"This is an important piece of the Capitol's history, and I'm pleased it has been donated to the Senate," said Bingman, R-Sapulpa. "Whenever we can restore part of our state Capitol to its original beauty, we can give Oklahomans another opportunity to connect with their unique history."

Trait Thompson, who serves as Vice Chair of the Capitol Preservation Commission, said the discovery of the lamp would greatly benefit efforts to restore the building.

"This is a wonderful find for not only the Senate but for the state Capitol," he said. "It represents a piece of Oklahoma history that can be restored and returned to its rightful place. We are very grateful to the Greens for their generosity in returning this piece to the Senate."

Randy Dowell, Senate Chief of Staff, said it was his hope that the story would lead to the discovery and donation of additional pieces of Capitol history. Dowell said anyone who believes they may have an original piece from the Senate Chamber, such as a lighting fixture or other decorative detail, should feel free to contact the state Senate at (405) 524-0126, and ask to speak with Dowell, Thompson, or Central Services Supervisor Roger Pirrong.