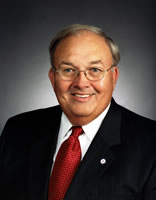 Senator Richard Lerblance
Senate Energy and Environment Committee Chairman Richard Lerblance has asked Governor Brad Henry to convene a statewide energy summit to discuss ways to help working families in Oklahoma deal with expected increases in the cost of heating their homes this winter.
"The Senate has already taken the lead in seeking ways for the state to expand upon the federal Low Income Home Energy Assistance Program. We also need to call on the leaders of Oklahoma's energy industry to help us find ways to further assist working families and our senior citizens living on fixed incomes," said Lerblance, D-Hartshorne.
Forecasters are predicting that home heating bills in Oklahoma could be 35 percent higher this winter than they were a year ago.
"Many elderly Oklahomans living on social security already have to choose between buying their prescription drugs and putting food on their tables. If their gas bills increase $50 a month, they will have another difficult choice to make and as leaders of this state we must do everything we can to ease their burden," Lerblance said.
Some energy companies have monthly averaging programs that keep home energy bills consistent throughout the year. Thousands of Oklahomans take advantage of these programs but for the thousands more who don't the dramatic increase in the price of natural gas will cripple their household budgets.
"By bringing together the leaders of the natural gas, oil, coal, wind energy, water power and other related industries, perhaps we can find other new and innovative ways to protect our most vulnerable citizens from the cold," Lerblance said.
Lerblance asked Henry to convene the summit in an October 14 letter and hopes a summit can be arranged before Thanksgiving to allow leaders to enact solutions before winter arrives.
Contact info
Senator Lerblance's Office: 521-5604