OKLAHOMA CITY, OK – Second grade students from Stephanie Payne's class at Carnegie Elementary school were recently selected to decorate one of 26 Christmas trees inside the state Capitol, according to State Senator Darcy Jech, R-Kingfisher.   Each year, schools across the state are invited to apply to be selected to participate in the decorating event in conjunction with the Governor's Christmas Tree Lighting ceremony. 
            "The annual Christmas tree lighting celebration is a great tradition and it's a joy to have so many young students participate," said Jech.  "I was thrilled to hear Mrs. Payne's second grade class was selected to decorate one of the trees that represent a season of joy and hope for so many Oklahomans.  It was a pleasure to have them here and their tree looks fantastic."
            Mrs. Payne's class tree is located on the 2nd floor of the state Capitol in the west hallway.  Each class was asked to select a theme for its tree, and the class from Carnegie Elementary chose "Teamwork makes the dream work."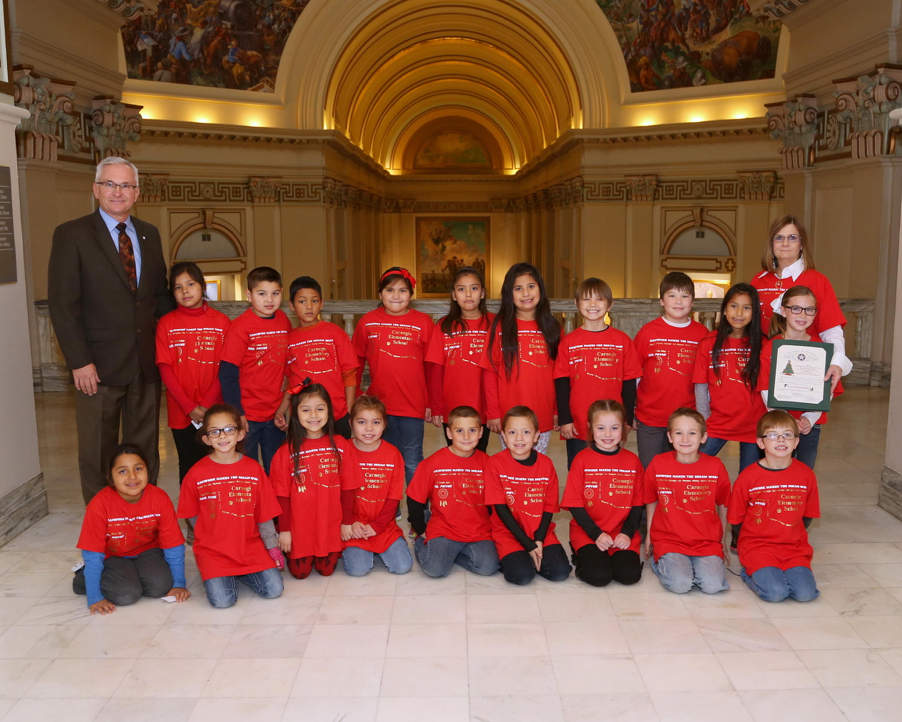 Sen. Darcy Jech, R-Kingfisher, welcomes Carnegie Elementary second graders and their teacher, Stephanie Payne, to the State Capitol in conjunction with the Christmas Tree Lighting ceremony hosted by Gov. Mary Fallin and State Superintendent of Public Instruction Joy Hofmeister on November 30.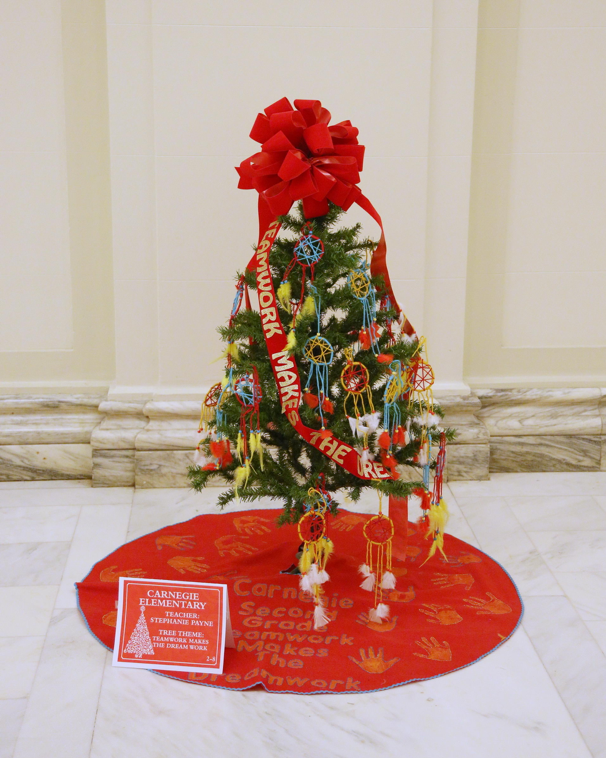 The Christmas tree decorated by Carnegie Elementary students in Stephanie Payne's second grade class features the theme, "Teamwork makes the dream work."   The Carnegie Elementary class joined almost 700 students from across the state to decorate 26 Christmas trees throughout the State Capitol building on November 30.