OKLAHOMA CITY – State Sen. Micheal Bergstrom took to the air today with the Oklahoma Highway Patrol to tour flood damage in his district by plane. 
            "I appreciate the Highway Patrol, and particularly Trooper Hank Jenks, in allowing me to join them in surveying the storm damage in my district on Friday," said Bergstrom, R-Adair.  "I wanted to get a better idea of the severity of flooding and subsequent damage as well as tornado damage in the communities before I contacted with Governor Stitt and Lieutenant Governor Pinnell to reiterate the dire need for assistance for my constituents."
Bergstrom said he surveyed several areas, including around Lake Hudson and Grand Lake, as well as Vinita, Jay and Miami.
"The widespread flooding in and around our district is devastating," said Bergstrom.  "Most routes into and out of Miami, including Steve Owens Boulevard, are underwater.  We also noted significant damage at The Landings on Monkey Island where the restaurant and boat slips have broken loose from the shore. In Jay, we flew over the path the tornado took there and while there is some significant damage it's fortunate the damage wasn't worse."
Bergstrom expressed concern for immediate and long lasting effects of the recent storms that brought massive flooding across the state.
"Many communities, both locally and statewide, have been severely affected by the storms.  Farmers are losing crops and home owners and business owners are fighting to save their property due to damage brought on by the rising floodwaters.  My view from the air today showed the situation is dire for many and I intend to discuss with the governor and lieutenant governor as soon as possible the best way to help those in our district recover from the flooding."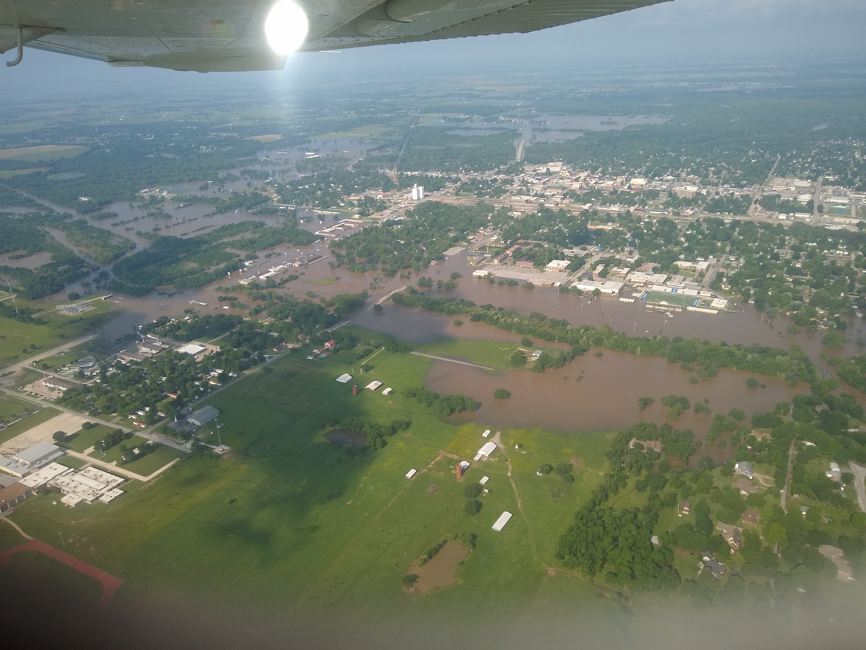 Aerial view of Miami, taken during State Sen. Senator Micheal Bergstrom's tour with the Oklahoma Highway Patrol on Friday, May 24, 2019.
Contact info
Sen. Micheal Bergstrom at 405-521-5561 or
bergstrom@oksenate.gov