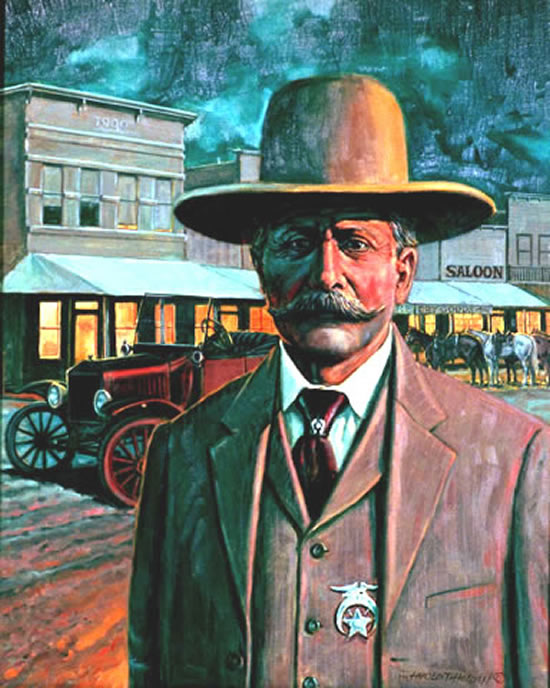 Artist: Harold Holden
Sponsor: Sen. Brad Henry
Dedication: February 6, 2002
Size: 24" x 30"
Type: Oil on Canvas
Location: Senate Lounge
Bill Tilghman was born at Fort Dodge, Iowa on July 4, 1856. His career spans the Wild West era, but goes well into the twentieth century. He was a frontier scout, buffalo hunter, peace officer, movie maker, and state senator. He spent a total of 51 years in law enforcement and was the last of the old time sheriffs. In 1875, he became deputy sheriff in Dodge City, Kansas. Lawman and gunfighter Bat Masterson called Bill Tilghman "the greatest of us all." Bill was not a flamboyant man and was not noted for his fast draw or marksmanship; however, he was celebrated for his unwavering courage.
Tilghman came to Oklahoma during the land run of April 1889 and established his first home at Guthrie. In 1891, he was appointed a deputy United States Marshal and served continuously for 19 years, being re-appointed by every United States Marshal in Oklahoma until 1910. In 1893, he was known as one of the "Three Guardsmen" who brought law to the town of Perry, and tracked down members of the Doolin gang, including the arrest of outlaw Bill Doolin at a bath house in Eureka Springs, Arkansas.
In 1900, Tilghman was elected sheriff of Lincoln County, Oklahoma, where he mastered the art of politicking through the use of the expanding newsprint media. He was later elected as a member of the Oklahoma State Senate. In 1911, he resigned from the Senate to become chief of police in Oklahoma City. In 1915, Mr. Tilghman was instrumental in bringing out a moving picture series entitled "The Passing of the Oklahoma Outlaws," scenes of which were re-enacted under his direction by many of those who were actually engaged in the original work of hunting down the outlaws. Tilghman was persuaded to come out of retirement in 1924 to clean up the town of Cromwell, Oklahoma. Early on this job, a drunk prohibition officer, Wiley Lynn, shot and killed Tilghman as he led Lynn to jail.
Images are copyright of The Oklahoma State Senate Historical Preservation Fund, Inc. and the artist. Please contact Matt Duehning at 405-524-0126 or Matt.Duehning@oksenate.gov for further copyright information.