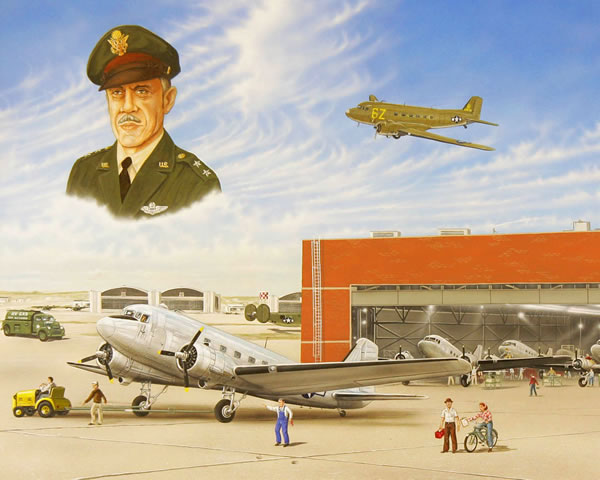 Artist: R.T. Foster
Sponsor: Senator Cliff & DeeAnn Aldridge
Dedication: May 6, 2008
Size: 30" x 40"
Type: Oil on Canvas
Location: 5th floor, North hall, Senate wing (temporary)
The history of Tinker Air Force Base began in 1940 when a group of Oklahoma City businessmen learned that the War Department was considering the central United States as a location for a maintenance and supply depot.  City leaders offered a 480 acre site with an option for 960 additional acres of land.  On April 8, 1941, the order was officially signed awarding the depot to Oklahoma City.
During World War II, Tinker's industrial plant repaired B-24 and B-17 bombers and fitted B-29s for combat.  In 1946, Tinker was expanded to  include the Douglas Aircraft plant, which produced approximately half of the C-47 Skytrains used in World War II.  The site also produced a number of A-20 Havocs.
Throughout the Korean conflict, Tinker continued with aircraft and supply support to the Far East.  During Vietnam, Tinker supplied logisitics and communications aid to Air Force units in Southeast Asia.  In the 1990's, Tinker provided front-line support to the forces engaged in Operation Desert Shield and Desert Storm.
Today, the base has more than 26,000 military and civilian employees and is the largest single-site employer in Oklahoma.  It is the home of the Air Force Materiel Command, Oklahoma City Air Logistics Center, which is the worldwide manager for a wide range of aircraft, engines, missiles, software and avionics components.
Among its distinctions, Tinker Air Force Base was the site of the first successful tornado forecast in history, which was issued on March 25,1948 about three hours before a tornado hit the southeast corner of the base.  A granite marker in the Heritage Airpark on the base commemorates the event.
Tinker Air Force Base was named in honor of Major General Clarence L. Tinker, a native of Pawhuska, Oklahoma.  General Tinker lost his life while leading a flight of LB-30 Liberators on a long-range strike against Japanese forces on Wake Island during the early months of World War II.
Images are copyright of The Oklahoma State Senate Historical Preservation Fund, Inc. and the artist. Please contact Matt Duehning at 405-524-0126 or Matt.Duehning@oksenate.gov for further copyright information.