Territorial Governors Information Framed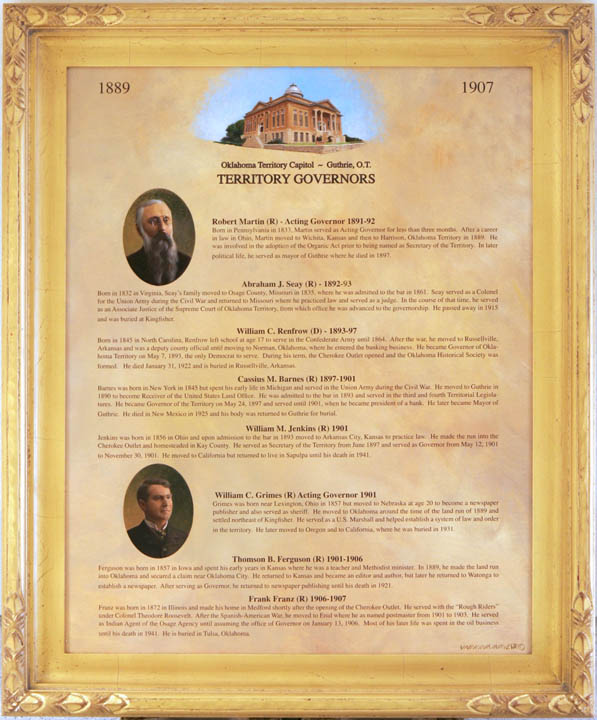 Artist: Mike Wimmer
Sponsor: Public Service Company of Oklahoma
Dedication: May 5, 2008
Size: 24" x 36"
Type: Oil on Canvas
Location: 2nd Floor Governor's Conference Room Foyer
George W. Steel (R) - 1890-91
Steel was born in 1839 in Indiana and served with the Union Army during the Civil War.  Steel was elected to Congress from 1883 to 1889 and his experience there may have led President Harrison to select him as the initial Governor of Oklahoma Territory.  He took the oath of office in Guthrie on May 22, 1890 and tried to bring order to the chaotic legislature.  The school systems, three colleges and the State Library were established during his term.
Robert Martin (R) - Acting Governor 1891-92
Born in Pennsylvania in 1833, Martin served as Acting Governor for less than three months.  After a career in law in Ohio, Martin moved to Wichita, Kansas and then to Harrison, Oklahoma Territory in 1889.  He was involved in the adoption of the Organic Act prior to being named as Secretary of the Territory.  In later political life, he served as mayor of Guthrie where he died in 1897.
Abraham J. Seay (R) - 1892-93
Born in 1832 in Virginia, Seay's family moved to Osage County, Missouri in 1835, where he was admitted to the bar in 1861.  Seay served as a Colonel for the Union Army during the Civil War and returned to Missouri where he practiced law and served as a judge.  In the course of that time, he served as an Associate Justice of the Supreme Court of Oklahoma Territory, from which office he was advanced to the governorship.  He passed away in 1915 and was buried at Kingfisher.
William C. Renfrow (D) - 1893-97
Born in 1845 in North Carolina, Renfrow left school at age 17 to serve in the Confederate Army until 1864.  After the war, he moved to Russellville, Arkansas and was a deputy county official until moving to Norman, Oklahoma, where he entered the banking business.  He became Governor of Oklahoma Territory on May 7, 1893, the only Democrat to serve.  During his term, the Cherokee Outlet opened and the Oklahoma Historical Society was formed.   He died January 31, 1922 and is buried in Russellville, Arkansas.
Cassius M. Barnes (R) 1897-1901
Barnes was born in New York in 1845 but spent his early life in Michigan and served in the Union Army during the Civil War.  He moved to Guthrie in 1890 to become Receiver of the United States Land Office.  He was admitted to the bar in 1893 and served in the third and fourth Territorial Legislatures.  He became Governor of the Territory on May 24, 1897 and served until 1901, when he became president of a bank.  He later became Mayor of Guthrie.  He died in New Mexico in 1925 and his body was returned to Guthrie for burial.
William M. Jenkins (R) 1901
Jenkins was born in 1856 in Ohio and upon admission to the bar in 1893 moved to Arkansas City, Kansas to practice law.  He made the run into the Cherokee Outlet and homesteaded in Kay County.  He served as Secretary of the Territory from June 1897 and served as Governor from May 12, 1901 to November 30, 1901.  He moved to California but returned to live in Sapulpa until his death in 1941.
William C. Grimes (R) Acting Governor 1901
Grimes was born near Lexington, Ohio in 1857 but moved to Nebraska at age 20 to become a newspaper publisher and also served as sheriff.  He moved to Oklahoma around the time of the land run of 1889 and settled northeast of Kingfisher.  He served as a U.S. Marshall and helped establish a system of law and order in the territory.  He later moved to Oregon and to California, where he was buried in 1931.
Thomson B. Ferguson (R) 1901-1906
Ferguson was born in 1857 in Iowa and spent his early years in Kansas where he was a teacher and Methodist minister.  In 1889, he made the land run into Oklahoma and secured a claim near Oklahoma City.  He returned to Kansas and became an editor and author, but later he returned to Watonga to establish a newspaper.  After serving as Governor, he returned to newspaper publishing until his death in 1921.
Frank Franz (R) 1906-1907
Franz was born in 1872 in Illinois and made his home in Medford shortly after the opening of the Cherokee Outlet.  He served with the "Rough Riders" under Colonel Theodore Roosevelt.  After the Spanish-American War, he moved to Enid where he as named postmaster from 1901 to 1903.  He served as Indian Agent of the Osage Agency until assuming the office of Governor on January 13, 1906.  Most of his later life was spent in the oil business until his death in 1941.  He is buried in Tulsa, Oklahoma.
Images are copyright of The Oklahoma State Senate Historical Preservation Fund, Inc. and the artist. Please contact Matt Duehning at 405-524-0126 or Matt.Duehning@oksenate.gov for further copyright information.