Surrender of General Stand Watie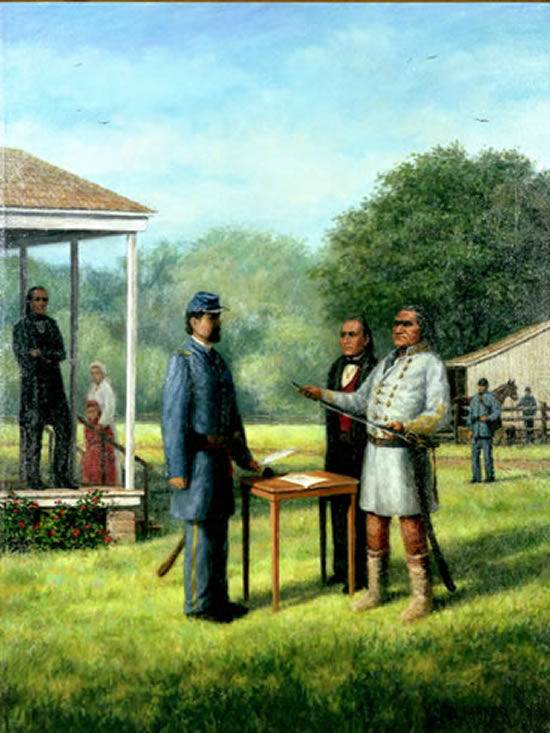 Artist: Dennis Parker
Sponsor: Sen. Jeff Rabon
Dedication: May 2, 2000
Size: 30" x 40"
Type: Oil on Canvas
Location: 4th Floor, Outside Senate Lounge
Stand Watie was the only American Indian to attain the rank of Brigadier General during the Civil War, and was the last Confederate General to surrender. He was born in Georgia in 1806. When the federal government began urging Cherokees to move from Georgia, Tennessee and North Carolina to a home west of the Mississippi, Stand Watie was one of those who believed it best for Cherokees to make such a move. As a signer of the treaty of New Echota in 1836, which provided for removal of Cherokees to the west, Stand Watie gained enmity of those opposed.
Among the battles in which he participated were Wilson Creek, Bird Creek, Pea Ridge, and Cabin Creek. He attained the rank of Brigadier General on May 10, 1864. In the battle of Cabin Creek, the Confederates routed the Federals and captured about three hundred wagons loaded with supplies, thus, for a time, enabling the destitute Indian Confederates to continue in the war. At the urging of Peter Pitchlynn, Stand Watie surrendered his command at Doaksville near Fort Towson on June 23, 1865. He died September 9, 1871 near Grove, Oklahoma: a man of courage, leadership and loyalty.
Images are copyright of The Oklahoma State Senate Historical Preservation Fund, Inc. and the artist. Please contact Matt Duehning at 405-524-0126 or Matt.Duehning@oksenate.gov for further copyright information.