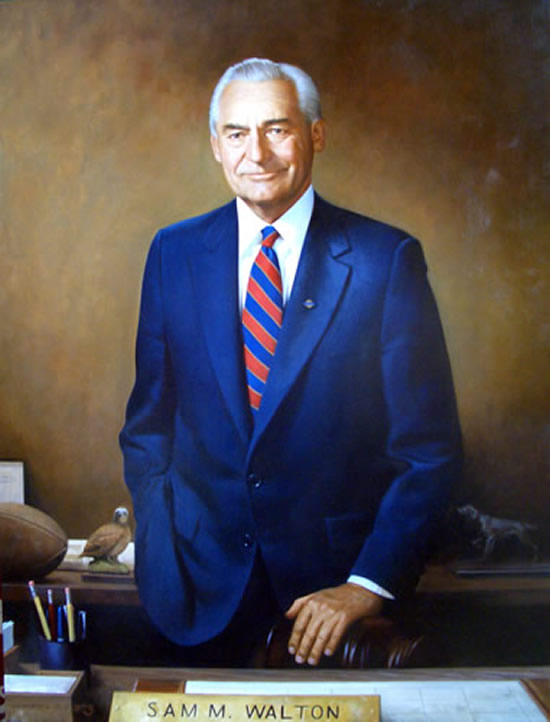 Artist: Mike Wimmer
Sponsor: The Wal-Mart Foundation
Dedication: March 29, 2005
Size: 40" x 60"
Type: Oil on Canvas
Location: 2nd floor near rotunda
Samuel Moore Walton was born in Kingfisher, Oklahoma on March 29, 1918. He later moved to Missouri with his family. He graduated from the University of Missouri in 1940 and worked for J.C. Penney as a management trainee. But it was in Claremore, Oklahoma, that he met his wife, Helen Robson. They were married in 1943.
After serving in WWII, Walton took his savings plus a loan from his wife's father and opened his first store, a Ben Franklin franchise.
In 1962, he opened the first Wal-Mart in Rogers, Arkansas. Wal-Mart specialized in name-brands at low prices and Sam Walton was surprised at the success. Soon a chain of Wal-Mart stores sprang up across rural America. Walton's management style was popular with employees and he founded some of the basic concepts of management that are still in use today.
By 1991, Wal-Mart was the largest U.S. retailer with over 1700 stores. Walton remained active in managing the company as President and CEO until 1988, and remained chairman until his death. When he died in 1992, he was the world's second richest man, behind Bill Gates. He passed his company down to his three sons, daughter and wife. If alive today, his fortune would far exceed that of Bill Gates.
Fortune Magazine named Sam Walton as the third greatest CEO of all time. Time Magazine also named him as one of the 100 most influential people of the 20th Century.
Sam Walton was a recipient of Presidential Medal of Freedom from President George Bush in 1992 for categories including entrepreneurship, business statesman, and business leader.
Wal-Mart is the largest private employer in the United States.
Images are copyright of The Oklahoma State Senate Historical Preservation Fund, Inc. and the artist. Please contact Matt Duehning at 405-524-0126 or Matt.Duehning@oksenate.gov for further copyright information.