President Theodore Roosevelt, Frederick, OT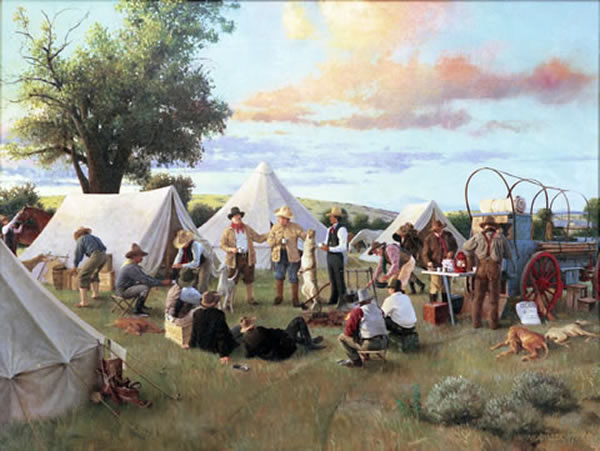 Artist: Mike Wimmer
Sponsor: Sen. Gilmer Capps
Dedication: February 14, 2000
Size: 40" x 30"
Type: Oil on Canvas
Location: 4th Floor, Outside Senate Lobby
Oklahoma Territory was honored in 1905 by a visit of President Theodore Roosevelt to the Frederick and Lawton area. Teddy was brought to Oklahoma Territory for the purpose of influencing him to consider statehood at the invitation of Burk Burnett who had large land holdings in Texas and Oklahoma Territory.
Knowing of his love for the great outdoors, he was offered an opportunity to hunt wolves and coyotes with Jack (Catch 'em Alive) Abernathy. The painting depicts a camp scene after a day's hunt. Chief Quannah Parker came down from Lawton and joined the party for two days. After returning to the nation's Capitol, Teddy was influential in creating the Wichita Mountain Wildlife Refuge and in 1907 signed the proclamation creating the State of Oklahoma.
Images are copyright of The Oklahoma State Senate Historical Preservation Fund, Inc. and the artist. Please contact Matt Duehning at 405-524-0126 or Matt.Duehning@oksenate.gov for further copyright information.