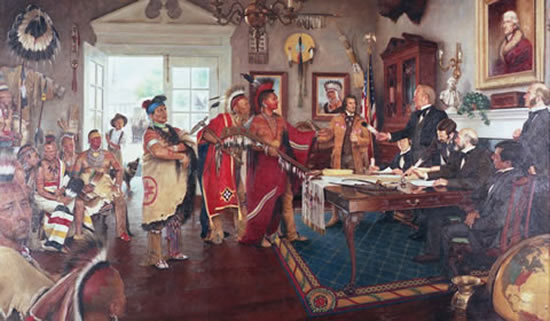 Artist: Mike Wimmer
Sponsor: Tulsa World/Lorton Family
Dedication: March 26, 2001
Size: 10' x 6'
Type: Oil on Canvas
Location: Senate Lobby
Upon completion of the Louisiana Purchase, a great expansion was underway; a part of this being the removal of the Cherokees from Georgia and Tennessee to the Osage lands. Fighting between the Cherokees and Osages had become a problem. Previous Osage treaties needed to be revised to solve the problem with the Cherokees. The treaty established a new Southern and Eastern boundary, moving the Osages basically into Kansas. The United States agreed to pay the Osage seven thousand dollars each year for twenty years. The tribes could draw in either money or goods at wholesale prices. Also they would receive six hundred head of cattle, six hundred head of hogs, one thousand domestic fowl, ten yoke of oxen, six carts, one blacksmith, and a house would be built for each of the four principal chiefs. The treaty was signed by William Clark, US Indian Commissioner, at St. Louis in Clark's museum, by Clairmont, principal Chief of the Osage, and sixty Great and Little Chiefs of the Osage. Dated June 2, 1825, it was witnessed by such notables as Pr. Chouteau, P. L. Chouteau and Edward Coles, Governor of Illinois.
Images are copyright of The Oklahoma State Senate Historical Preservation Fund, Inc. and the artist. Please contact Matt Duehning at 405-524-0126 or Matt.Duehning@oksenate.gov for further copyright information.