Nathaniel Pryor and Sam Houston at Three Forks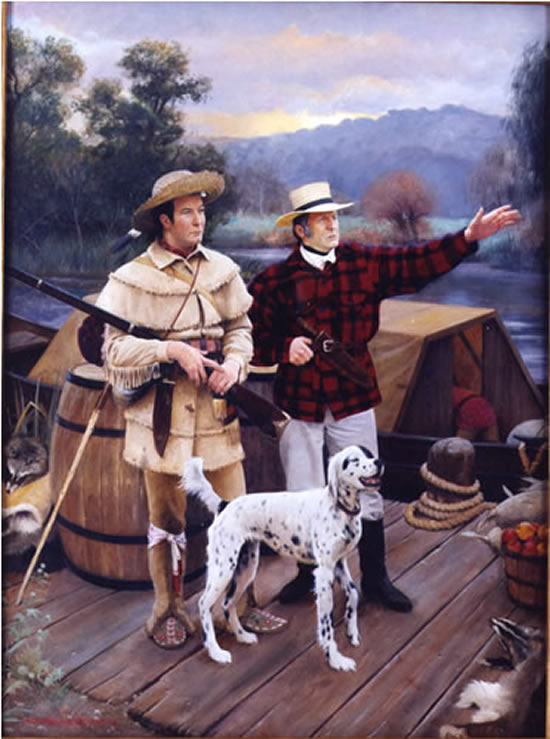 Artist: Mike Wimmer
Sponsor: Sen. Kevin Easley
Dedication: May 20, 2003
Size: 36" x 48"
Type: Oil on Canvas
Location: Senate Lobby
Nathaniel Pryor and Sam Houston conduct trade on a flatboat along the Three Forks, where the Neosho (Grand), Verdigris and Arkansas Rivers flow together. Known for many years as a trading place, Three Forks gained popularity as a riverboat and trade destination. This region became an early hub for traffic west of the Mississippi. The rivers were important for the export of furs, salt and tobacco, which were traded at St. Louis, Arkansas Post and New Orleans.
Nathaniel Pryor (1775-1831) was an explorer, soldier, trader and Indian agent. He served as a sergeant in the Lewis & Clark expedition in 1803. During the War of 1812, Pryor served as captain under General Andrew Jackson at the Battle of New Orleans. Upon discharge from the army, Pryor settled along the Arkansas River, where he bartered with the region's Indians. In 1819, he received a license to trade with the Osage at Three Forks, located about four miles northeast of present-day Muskogee. There, on the Verdigris, about two miles above its confluence with the Arkansas, Pryor established a trading post. General William Clark of Missouri Territory appointed him acting Osage sub-agent in 1827. Captain Nathaniel Pryor died at the Osage sub-agency, located southeast of present-day Pryor in Mayes County, Oklahoma. That community, and nearby Pryor Creek, bear his name.
Sam Houston was born in 1793. He left home in his early teens and lived with the Cherokees during his formative years and was adopted into the tribe by the Chief. He l was elected governor of Tennessee in 1827, but resigned in 1829 amid scandal of a failed marriage. Houston took refuge among his old friends, the Cherokees, in lands along the Arkansas River. He adopted Cherokee dress and proclaimed himself a citizen of the Cherokee nation. He took a Cherokee wife, Tiana Rogers, whose family became an important part of the native-American heritage. Tiana's nephew, several generations removed, was Will Rogers. Sam Houston built a large log house in eastern Oklahoma, which became known as "Wigwam Neosho." It was located "near the Neosho River, a little above Cantonment Gibson, and thirty miles from the lodge of Oo-loo-te-ka (the Cherokee father of his youth)." Here he engaged in trading, entertaining friends, and planting an apple orchard.
Houston later took off to liberate the Republic of Texas. He led the Battle of San Jacinto during the Texas Revolution against Mexico. Houston served as the first President of the Republic of Texas from 1836 to 1838 and from 1841 to 1844. He served as Senator for Texas from 1846 to 1859 after Texas had been admitted to the Union, and was elected as Governor of Texas in 1859, but was removed as Governor when he refused to take an oath of allegiance when Texas voted to secede from the Union. He retired to the town of Huntsville, where he died in 1863.
Images are copyright of The Oklahoma State Senate Historical Preservation Fund, Inc. and the artist. Please contact Matt Duehning at 405-524-0126 or Matt.Duehning@oksenate.gov for further copyright information.