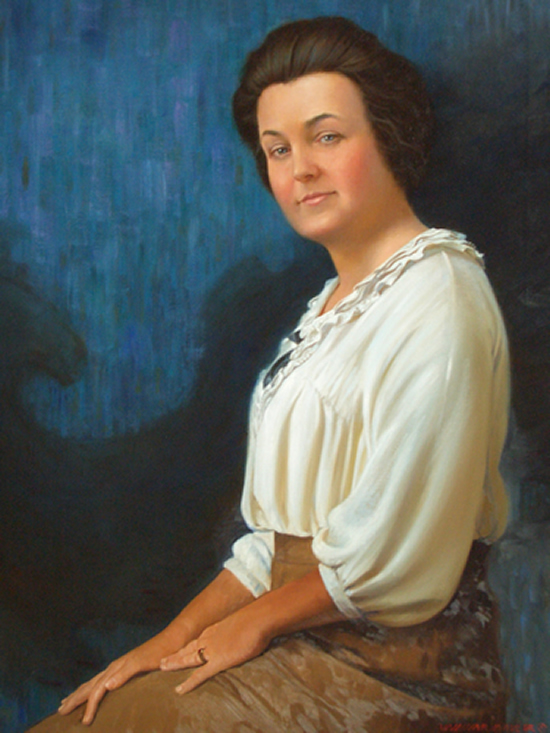 Artist: Mike Wimmer
Sponsor: 2005 Senate Women's Caucus
Dedication: April 19, 2005
Size: 24" x 30"
Type: Oil on Canvas
Location: 4th floor near Rotunda
Oklahoma's first female Senator was born Mirabeau Lamar Cole on January 16, 1871 in Alabama. She was named after Mirabeau B. Lamar, the second president of the sovereign Republic of Texas. As a child, she could be found reading her father's law books. In 1891, she married "Doc" Tourney Looney in Texas. Shortly thereafter, the young couple crossed into the future Greer/Harmon County area in the southwestern part of Oklahoma Territory.
Mrs. Looney soon became a widow and was left with five children under the age of ten to raise alone. To put food on the table, she taught music for a year in her home. She recognized the opportunities of becoming a landowner and filed a claim on a quarter section of land one mile from Hollis. She traded her organ for a team of mules and set about building a sod house. Driving the mule team 13 miles to the Red River, she cut the posts that would fence her land. With only the help of her ten-year old son, she planted her first crop of 20 acres. After receiving the land patent for the farm in 1906, Mrs. Looney moved her family to Hollis so the children could attend better schools.
In 1912, Mrs. Looney was elected registrar of deeds for Harmon County and was later elected twice to serve as county treasurer. In 1916, she was elected to the position of Harmon County Clerk.
A group of friends persuaded Mrs. Looney to enter the Oklahoma Senate race in 1920. Maintaining that she was a staunch Democrat, but not a politician, she campaigned only in Greer County where she her expenditures totaled $149.80. She carried her own county 3-to-1 and carried her incumbent opponent's county by a 2-to-1 vote.
On January 4, 1921, Mrs. Looney took her seat in the Oklahoma State Senate wearing a "smart brown suit and a brown hat, draped with a bit of lace veil." The new senator had a "chain-lightning mind" and was idealistically practical. She served as chairman of the State and County Affairs Committee, the Prohibition Enforcement Committee, and the Agriculture Committee. She would maintain the distinction of being the only woman to serve in the Oklahoma Senate until 1975.
Mrs. Lamar Looney was elected to public office before women had a right to vote in Oklahoma. It was not until 1920 that an amendment to the U.S. Constitution gave all women of the United States voting privileges. Comments from men in her door-to-door campaign were "Mrs. Looney, I know you are a capable lady, but I believe a woman's place is in the home." Her response was, "Eating what?"
At age 52, Mrs. Looney was admitted to the bar on December 10, 1923. Her application was made by motion directly to the Oklahoma Supreme Court.
In 1926, after serving three terms in the State Senate, Mrs. Looney considered running for Lieutenant Governor. She abandoned the race knowing that the courts would sustain the Oklahoma constitutional requirement that a man hold the office. Since federal office had no such requirement, she announced her candidacy for the U.S. Senate. She lost her bid for a spot on the U.S. Senate ticket, but won her fourth and final term in the Oklahoma Senate in 1927.
Mrs. Looney pushed for legislation that would allow women to serve in all state offices, although this constitutional amendment was not adopted during her lifetime. She was also actively involved in the campaign giving women the right to vote.
Mirabeau Lamar Cole Looney passed away September 3, 1935. The flag flew at half-staff over the State Capitol Building in her honor, where her casket was placed in state in the Capitol rotunda.
Images are copyright of The Oklahoma State Senate Historical Preservation Fund, Inc. and the artist. Please contact Matt Duehning at 405-524-0126 or Matt.Duehning@oksenate.gov for further copyright information.