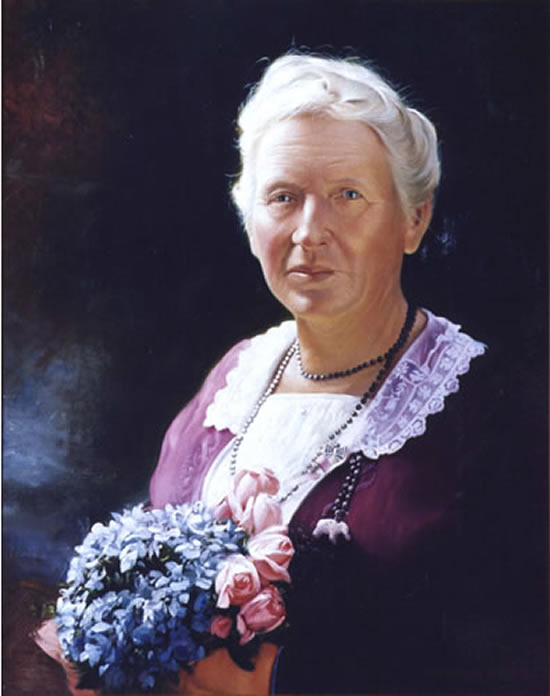 Artist: Mike Wimmer
Sponsor: Sen. Charles R. Ford
Dedication: April 15, 2003
Size: 24" x 30"
Type: Oil on Canvas
Location: Senate Lounge
In 1920, Alice Mary Robertson became the second woman elected to the House when she defeated the three-term incumbent William W. Hastings, in Oklahoma's Second Congressional District. At the age of 67, Robertson had a diverse career behind her.
She was born January 2, 1854, at the Tullahassee Mission of the Creek Nation in Indian Territory. Taught by her missionary parents, she went on to attend Elmira College in New York. From 1873 to 1879, she worked as the first woman clerk in the Office of Indian Affairs in Washington and also taught at the Indian school in Carlisle, Pennsylvania. She later founded Minerva Home, a school for Creek girls, which later became Henry Kendall College (now the University of Tulsa).
Miss Alice's helpfulness to troops passing through Muskogee station came to the attention of Col. Theodore Roosevelt and after he became President, named Miss Alice to serve as the first woman Postmaster in a first class postoffice in Muskogee. Later she operated a dairy farm which provided milk and butter and other produce which was used by the cafeteria she operated in Muskogee.
As a candidate for Congress in the first election following ratification of the Nineteenth Amendment, Robertson disassociated herself from suffragists and other women's rights advocates. Robertson's opposition to what she saw as a bureaucratic intrusion on personal rights provoked condemnation from women's political groups and such organizations as the Daughters of the American Revolution. And despite her support of servicemen in the First World War, she voted against the Soldiers' Bonus Bill.
On June 20, 1921, during a roll call vote on funding for a United States delegation to the centennial celebrations of Peru's independence, Robertson became the first woman to preside over a session of the House of Representatives.
Her first term in Congress, however, was also to be the last for the outspoken Robertson. In a rematch with William W. Hastings in 1922, Robertson lost her seat. Failing to receive an appointment in Indian Affairs in the Harding administration, Robertson returned to Oklahoma where she worked in the Veterans' Hospital in Muskogee, and for the Oklahoma Historical Society.
She resided in Muskogee, Oklahoma, until her death in 1931.
Images are copyright of The Oklahoma State Senate Historical Preservation Fund, Inc. and the artist. Please contact Matt Duehning at 405-524-0126 or Matt.Duehning@oksenate.gov for further copyright information.