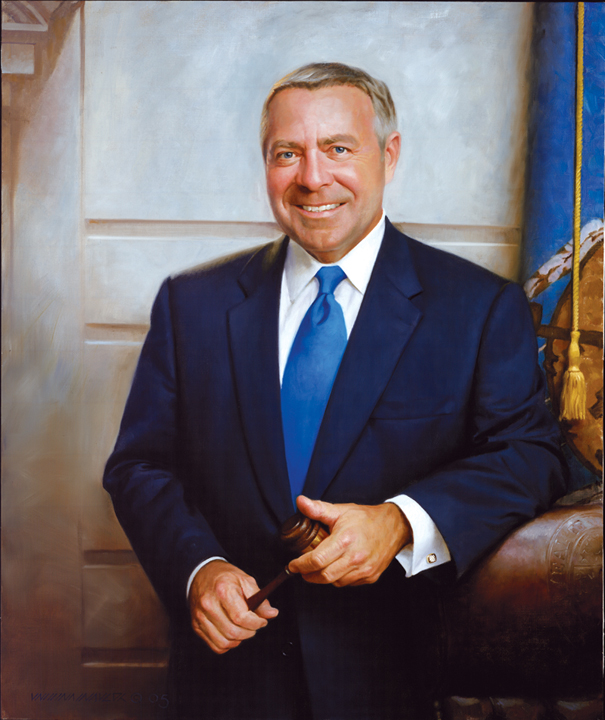 Artist: Mike Wimmer
Sponsor: Senate Membership
Dedication: March 24, 2009
Size: 30" x 36"
Medium: Oil on Canvas
Location: 4th Floor Senate Foyer
Mike Morgan began his political career in 1996 when he was elected as the Senator from District 21, which includes portions of Payne, Logan and Lincoln Counties.  He was re-elected to the Senate in 2000 and in 2004, and was term limited in 2008.
During his tenure in the Senate, Morgan served as Vice-Chair of Education (1997-98); Chairman of the Appropriations Sub-Committee on Retirement and Employee Benefits (1999-2002); and as Vice-Chairman of the Appropriations Sub-Committee on Education (2001-02).  He served as Chair of Appropriations (2003-05) until his election as President Pro Tempore of the Oklahoma State Senate in March 2005.
During 2007 and 2008, his last two sessions in the position, he served with his Republican counterpart during a time when the upper chamber was tied with 24 Democrats and 24 Republicans for the first time in Oklahoma history.  Political experts and commentators predicted gridlock and bitter partisanship in the upper chamber, but under the leadership of Senator Morgan, the Senate operated in a manner that drew praise from leaders across the state.  Morgan was praised for his ability to build consensus and keep the Senate running smoothly despite the potential for a bitter partisan divide.
Prior to his service in the legislature, Mike Morgan served as municipal judge for the City of Stillwater, a position he held for twelve years.   Mike maintained an active law practice in his hometown of Stillwater during the years he served in the Senate.  Since leaving the Senate, he continues to practice law.
Born in 1955 in Tulsa, Oklahoma, Mike was educated in the Tulsa Public School System.  He obtained a Bachelor of Science degree from Oklahoma State University and a Juris Doctorate from the University of Tulsa. 
His interests outside politics always included activities with his daughter, Abby.  
Images are copyright of The Oklahoma State Senate Historical Preservation Fund, Inc. and the artist. Please contact Matt Duehning at 405-524-0126 or Matt.Duehning@oksenate.gov for further copyright information.