Mahongo at the Court of Charles X of France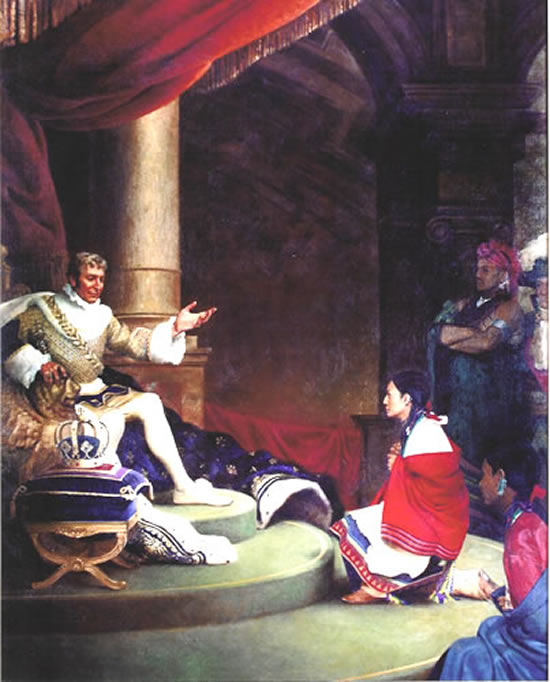 Artist: Mike Wimmer
Sponsor: Sen. Charles Ford
Dedication: May 19, 2004
Size: 36" x 48"
Type: Oil on Canvas
Location: 4th floor, Senate Lobby
Mohongo was a beautiful Osage woman at the Chouteau camp on the Neosho River in Indian Territory, who was among a group taken to Europe under false pretenses.
In 1827, David Dulauney, a French adventurer and confidence man, assumed the role of an U.S. representative and arrived at their village with his Indian interpreter. He told the party that he wanted to take them to meet the President in Washington. Mohongo and seven members of her tribe, including her husband, traveled down the Mississippi to New Orleans and boarded a ship for New York. The group of Osage were instead taken to Europe and landed at LaHavre, France. They were exploited by Dulauney and forced to perform native dances in a Wild West show that traveled through the continent. It is known they performed in Holland, Germany and France. The Osage dancers were very popular and were presented to and performed for the royal court of Charles X of France.The Osage were abandoned on the streets of Paris either because the show lost popularity or, more likely, that Delaunay was recognized by past creditors and thrown in jail. Unable to communicate, they wandered homeless through the streets in tattered buckskins and refusing to beg for food. They came to the attention of Lafayette who paid their passage back to the United States.
Tragedy struck on the ship home when Mohongo, now pregnant, lost her husband and two of the other tribe members to smallpox. After landing at Norfolk, Virginia, they again lived a hand-to-mouth existence until a sympathetic landlady contacted Colonel Thomas McKenney, who helped them.
Three years after wandering Europe in a side show act, Mohongo finally met President Andrew Jackson and was given the Peace medal. Charles Bird King painted her portrait with her child, which hangs in the National Portrait Gallery in Washington, D.C.
Images are copyright of The Oklahoma State Senate Historical Preservation Fund, Inc. and the artist. Please contact Matt Duehning at 405-524-0126 or Matt.Duehning@oksenate.gov for further copyright information.