The Guardian, Bronze Moquette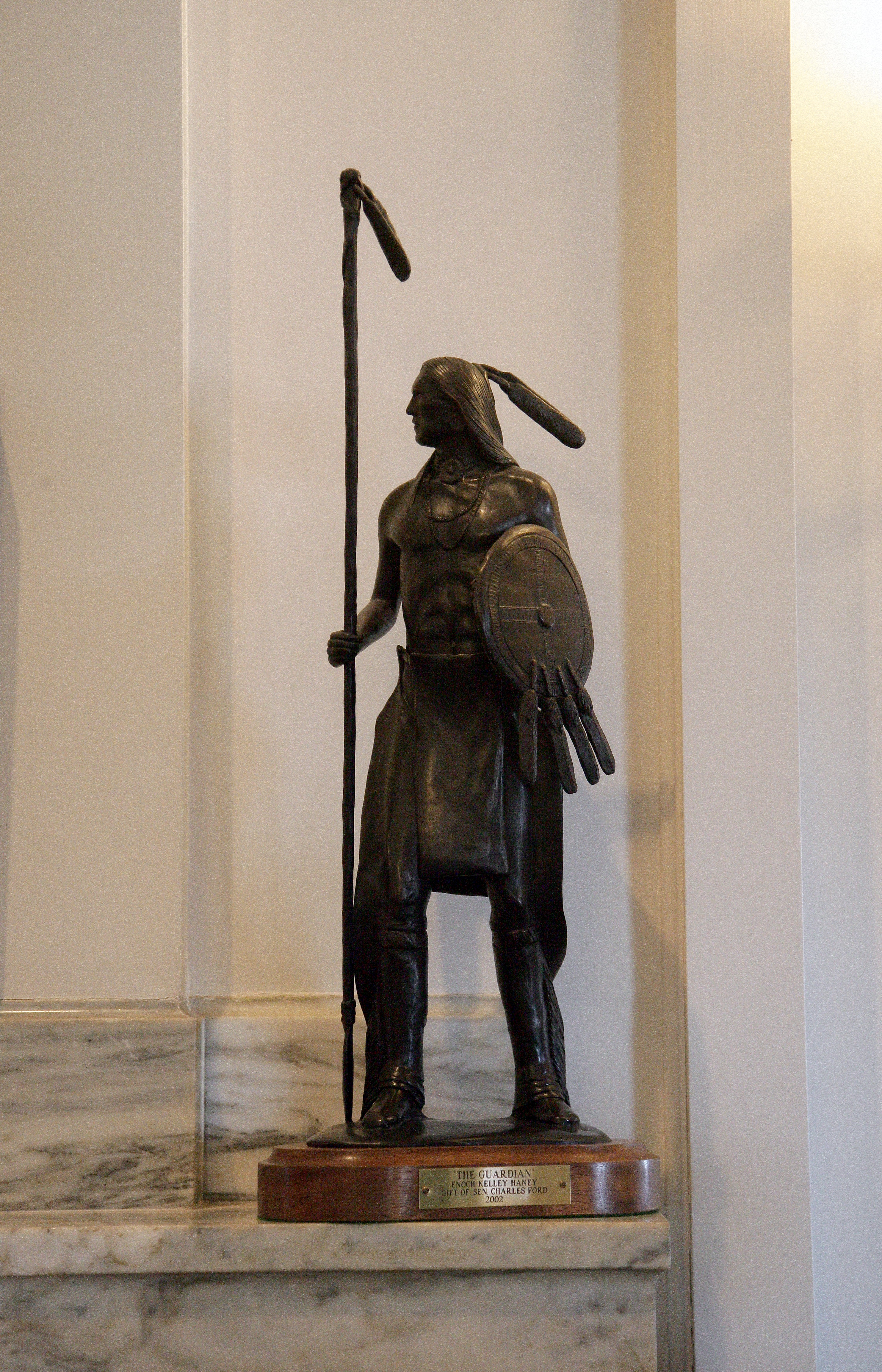 Artist: Enoch Kelly Haney
Sponsor: Senator Charles Ford
Dedication: 2003
Size: 24"
Type: Bronze
Location: 4th floor, Senate Lounge
Enoch Kelly Haney, is a former Oklahoma State Senator from Seminole and member of the Seminole Nation of Oklahoma. Haney's original colossal statue "The Guardian" stands prominently atop the Oklahoma State Capitol dome where it was lifted on June 7, 2002. The 17 feet tall statue holds a staff that reaches 22 feet into the sky.  This monumental project was completed in ten months and demanded 4,000 pounds of bronze, which was cast in 50 sections.  Haney's own family served as models for this historic piece. Haney's son William and Haney's grandson, Enoch, inspired the guardian's eyes and cheeks respectively. Inside the rotunda, visitors can view a nine-foot replica of "The Guardian".
During the dedication, Senator Haney gave a voice to "The Guardian", revealing the representation of all Oklahomans through the statue. "The Guardian" embodies the diversity within the proud and strong population of Oklahoma while serving as a reminder of our tumultuous times.  The sculpture signifies the thousand of Native Americans that were forced from their homes during the 1800s and the sons and daughters that survived the devastating Dust Bowl.  The towering statue exemplifies the valor of Oklahomans and their ability to overcome the most horrific catastrophes such as the bombing at the Murrah Building in Oklahoma City. 
Images are copyright of The Oklahoma State Senate Historical Preservation Fund, Inc. and the artist. Please contact Matt Duehning at 405-524-0126 or Matt.Duehning@oksenate.gov for further copyright information.