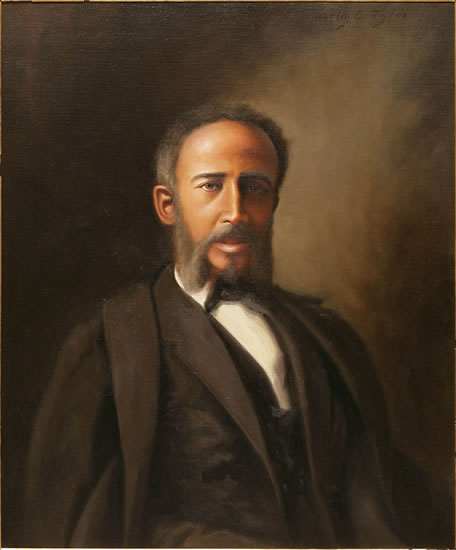 Artist: Timothy C. Tyler
Sponsor: Mr. and Mrs. Russell Perry
Dedication: February 28, 2007
Size: 24" x 30"
Type: Oil on Canvas
Location: 4th floor, North hall, House wing
Green I. Currin was the first African American to serve in the Oklahoma territorial legislature.   He was born October 20, 1842, in Williamson County, Tennessee.  Following emancipation, he lived in Nashville until he joined the great westward movement.  By 1877, he lived in Kansas, eventually establishing himself as a lawman in Topeka. 
Currin staked a claim in the Land Run of 1889 in Kingfisher County, Oklahoma Territory.  With the support of Republican voters, he was one of five delegates elected to the House of Representatives from Kingfisher County.  On August 27, 1890, Green I. Currin took his seat in the First Session of the Legislative Assembly of Oklahoma Territory.   He introduced the first civil rights legislation in the territory but it was defeated.
After one term in the legislative assembly, he served as Deputy United States Marshal and was appointed to the Colored Agricultural and Normal University (Langston) Board of Regents in 1897.  Currin and his wife Caroline had five children.  Green I. Currin died at his home in Dover on October 21, 1918.
Images are copyright of The Oklahoma State Senate Historical Preservation Fund, Inc. and the artist. Please contact Matt Duehning at 405-524-0126 or Matt.Duehning@oksenate.gov for further copyright information.