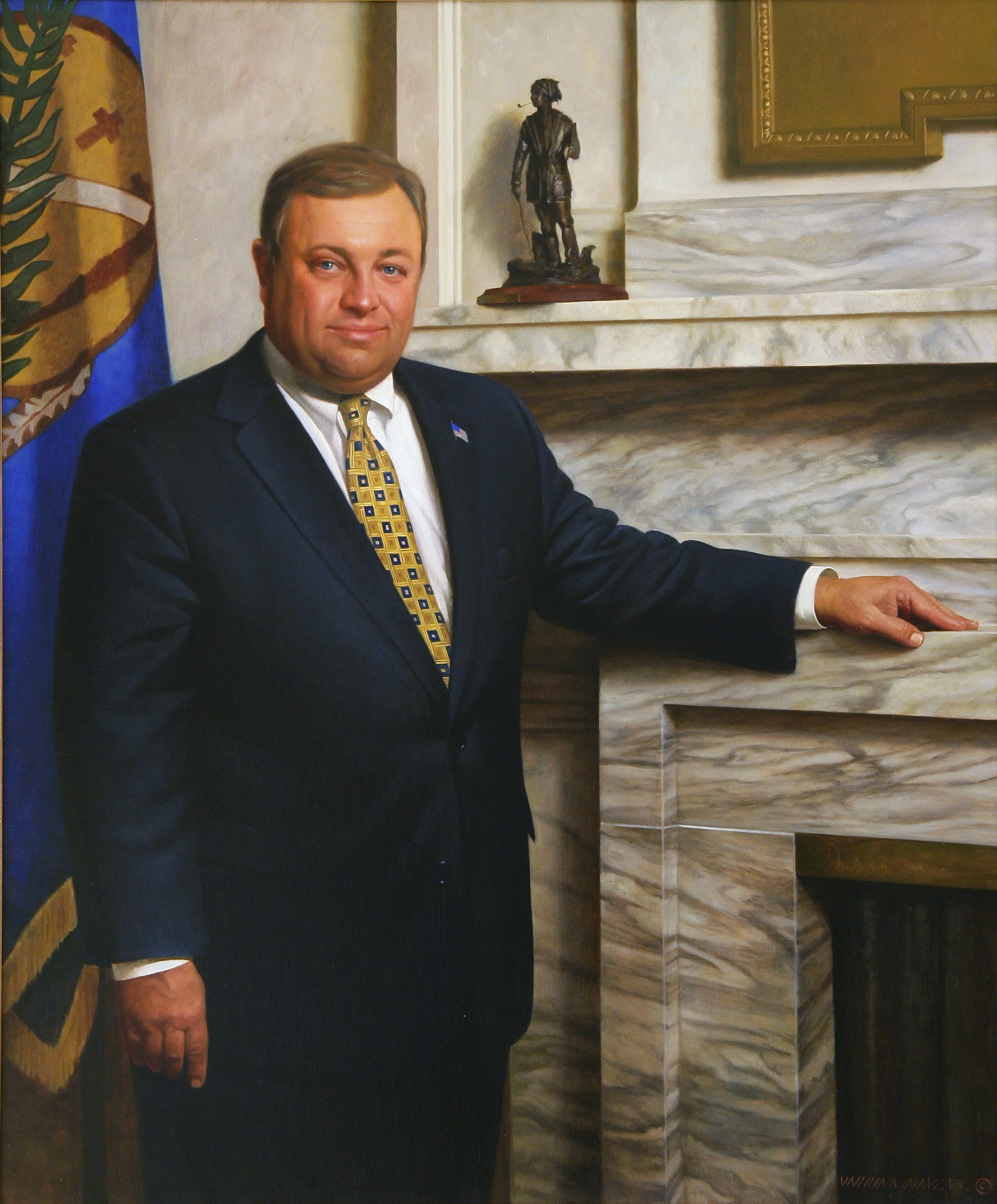 Artist: Mike Wimmer
Sponsor: Senate Membership
Dedication: March 24, 2009
Size: 30" x 36"
Type: Oil on Canvas
Location: 4th Floor Senate Foyer
Glenn Coffee is a businessman and attorney who is the first Republican in Oklahoma history to serve as President Pro Tempore, the top leadership position in the Oklahoma State Senate. Coffee is also the longest-serving Republican leader in the Senate. 
In 2008 Republicans made history by winning their first-ever majority in the Oklahoma Legislature's upper chamber. As the leader of the new majority, Coffee was elected to a two-year term as President Pro Tempore (2009-2010).
First elected to the State Senate in 1998, Coffee quickly gained a reputation as a leader and a reformer. He has served in a variety of leadership posts in the State Senate, including Republican Caucus chairman (2000-2002), Assistant Minority Floor Leader (2002-2004), and Minority Floor Leader (2004-2006).
Coffee served as Senate Co-President Pro Tempore (2007-08) after Republicans won a historic tie in the Oklahoma State Senate in the 2006 elections, sharing the responsibility of running the State Senate with his Democrat counterpart.
Glenn Coffee is among the Legislature's leading proponents of legal reform, government accountability, crime victims' rights, and education reform.
Senator Coffee's legislative accomplishments include the Clean Campaigns Act of 2008 and Oklahoma's constitutional amendment to protect hunting and fishing rights. He has authored several tough laws against sex offenders and other dangerous criminals.
Coffee earned an undergraduate degree in Political Science from Northeastern State University in 1989, and was named Outstanding Senior. He received a law degree from the University of Oklahoma College of Law in 1992.  He is an alumnus of Leadership Oklahoma and Leadership OKC, and is a member of the NSU Alumni Association.   Coffee is a founding member of the Oklahoma Legislature Sportsmen's Caucus.
He is a recipient of Northeastern State University's 2003 Citation of Merit, Young Alumnus award. He was selected for membership in Durocher's "Forty Under 40" in 2003 and the Journal Record's "Forty Under 40" honor in 2006, which recognize individuals as being among the most influential young business and community leaders in the Oklahoma City metro area.
Coffee is a member of Phillips Murrah Law Firm and specializes in business, commercial and electronic commerce law. He also serves as general counsel for TVC Marketing Association, a family business providing road and motor club services and other services to small businesses
Coffee lives in Oklahoma City with his wife Lisa and their four children, sons Collin and Blaine and daughters Anna and Kate.
Images are copyright of The Oklahoma State Senate Historical Preservation Fund, Inc. and the artist. Please contact Matt Duehning at 405-524-0126 or Matt.Duehning@oksenate.gov for further copyright information.