Elk Herd in the Wichita Mountains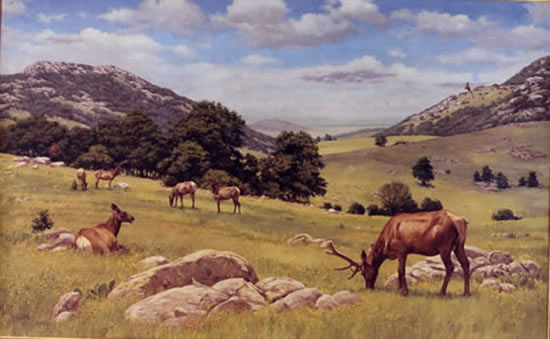 Artist: Barbara Vaupel
Sponsor: Rep. Don McCorkle
Dedication: March 5, 2003
Size: 8' x 5'
Type: Oil on Canvas
Location: South staircase, 5th floor, House wing
Elk graze peacefully on a stretch of grassland bordered by the rising granite mountains of Southwest Oklahoma.
Elk originally indigenous to the Wichita Mountains area of Oklahoma were exterminated by the late 1800's. When the land which became the Wichita Mountain Wildlife Refuge was set aside, no native elk remained.
In 1908, one bull elk of unknown origin was donated to the preserve by the city of Wichita, Kansas. In 1911 and 1912, additional elk were received from the National Elk Refuge herd.
Due to the success of these introductions, no further animals were brought into the herd and the elk now inhabiting the refuge and surrounding lands are descended from these original animals.
Images are copyright of The Oklahoma State Senate Historical Preservation Fund, Inc. and the artist. Please contact Matt Duehning at 405-524-0126 or Matt.Duehning@oksenate.gov for further copyright information.