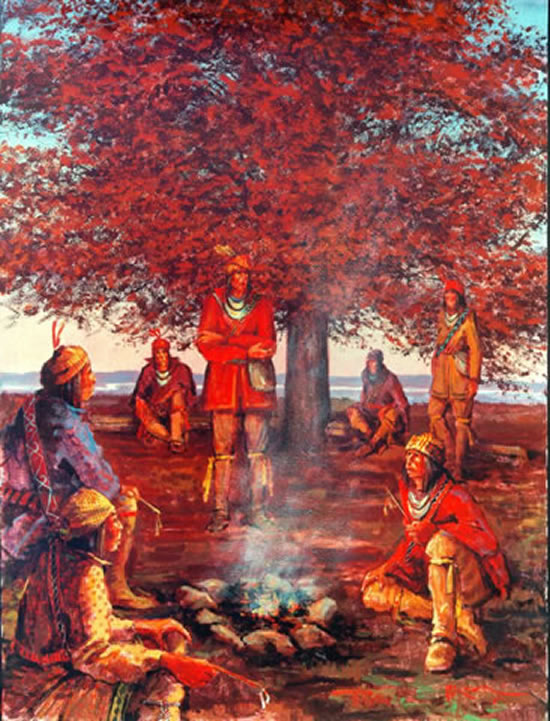 Artist: Mike Larsen
Sponsor: Gov. Frank Keating
Dedication: March 6, 2002
Size: 30" x 40"
Type: Oil on Canvas
Location: South staircase, 5th floor, Senate wing
The Creek Council tree, a mature post oak, marks the traditional "ceremonial ground" chosen by the Lochapoka clan of the Creek Indians. In 1834, they had begun their involuntary migration from Alabama under the control of the U.S. Government. It was a slow and painful trek and 161 of the original group of 630 died en route. In 1836, at a point just before the Arkansas River made its great bend to the west, they stopped. Leading men of the group climbed a slight hill that rose from river's sandy banks. At its crest, they gathered beneath a large oak tree that towered mightily above the other trees nearby.

With the oak defining a southeastern corner, the people of Lochapoka proceeded to lay out a square for their new home. When it was complete, they marked their arrival with a solemn ceremony depositing ashes brought over the trail from their last fires in Alabama. The Tulsa-Lochapoka, a division of the Creek Nation, established their first "town."
And so it was that the people of Lochapoka, a daughter of Tallasi (where the name Tulsa is believed to be derived), came to the Indian Territory to begin a new life. The oak that provided them their first council site would survive. Now much older and even more stately, it stands between Seventeenth and Eighteenth Streets and Cheyenne and Denver Avenues in Tulsa, Oklahoma.
Images are copyright of The Oklahoma State Senate Historical Preservation Fund, Inc. and the artist. Please contact Matt Duehning at 405-524-0126 or Matt.Duehning@oksenate.gov for further copyright information.