Ceremonial Transfer of the Louisiana Purchase in New Orleans - 1803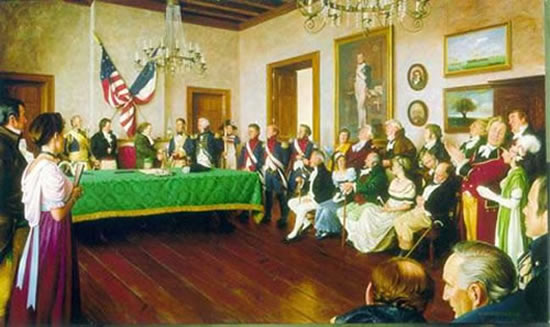 Artist: Mike Wimmer
Sponsor: Henry & Jane Primeaux
Dedication: 2003
Size: 6' x 10'
Type: Oil on Canvas
Location: Senate Lobby
On December 20, 1803, William Claiborne, former governor of the Mississippi Territory, and James Wilkinson, Commanding General of the United States Army, met with French representative Pierre Laussat in the Sala Capitular (capitol room) at the Cabildo in New Orleans. There they signed the document transferring the Louisiana Territory and ceremoniously passed the keys of the city from French hands to American hands.
At a cost of $15 million (or less than five cents per acre), the purchase added 828,000 square miles to the United States. It took more than 100 years to finally settle the Louisiana Territory and divide it into 13 states. Oklahoma was the last state carved out of the Louisiana Territory and entered the Union as the 46th state in 1907.
The Cabildo was constructed in 1795-99 and served as the seat of the Spanish municipal government in New Orleans. The governing body who met there was the "Cabildo" or city council. Over the years, the building also served as the home of the Louisiana Supreme Court. A bicentennial exhibit of the Louisiana Purchase is now on display in the restored Sala Capitular room.
Images are copyright of The Oklahoma State Senate Historical Preservation Fund, Inc. and the artist. Please contact Matt Duehning at 405-524-0126 or Matt.Duehning@oksenate.gov for further copyright information.